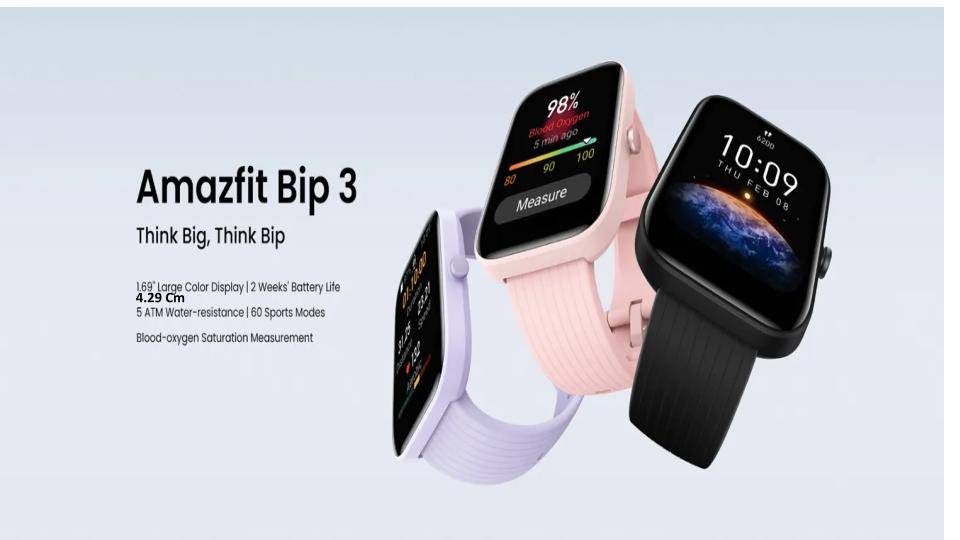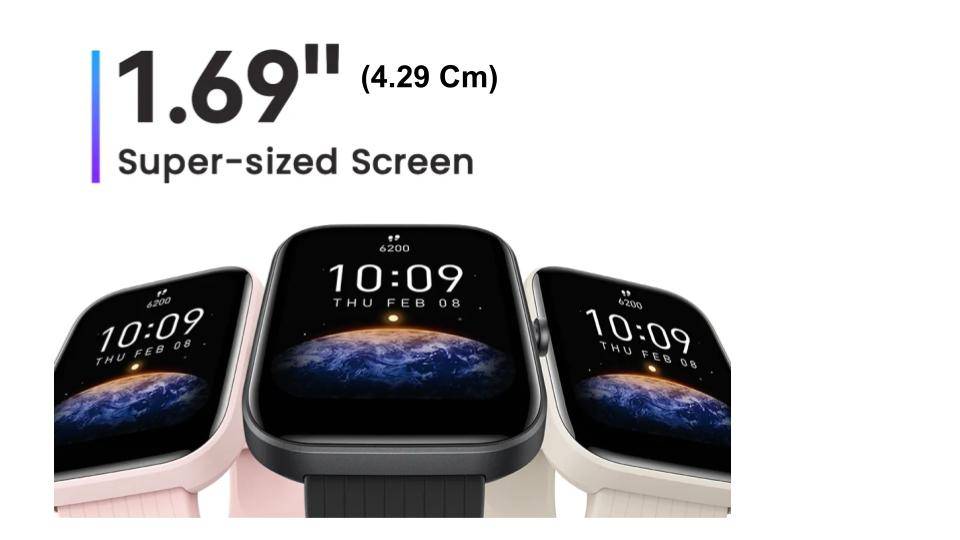 1.69" (4.29 Cm) Super-sized Screen
Ready for a real eye-opener? Immerse yourself in the super-large and colorful HD display of BIP 3 smart watch, and see all your incoming calls, messages, reminders, and health and fitness data in awesome, expansive quality.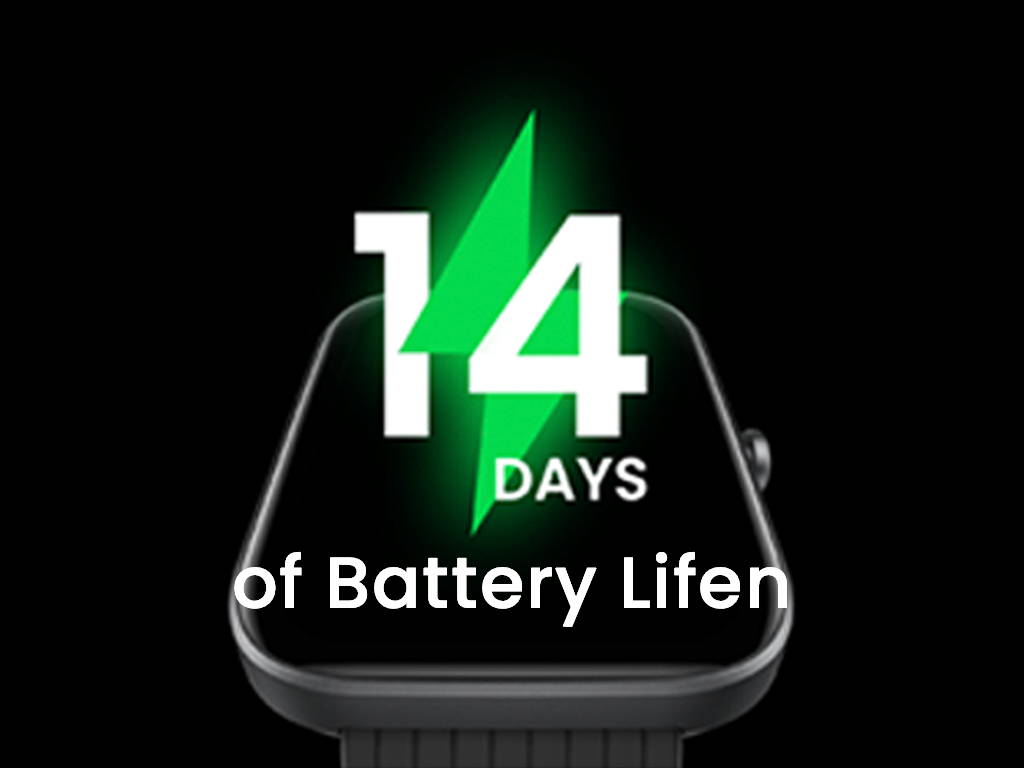 14 Days of Battery Life
Got a trip coming up? Fully charge the watch before you go, and unplug yourself for up to two weeks. The BIP 3 watch packs a powerful battery into its super slim and light body, so you can pack something more fun than a charger into your case.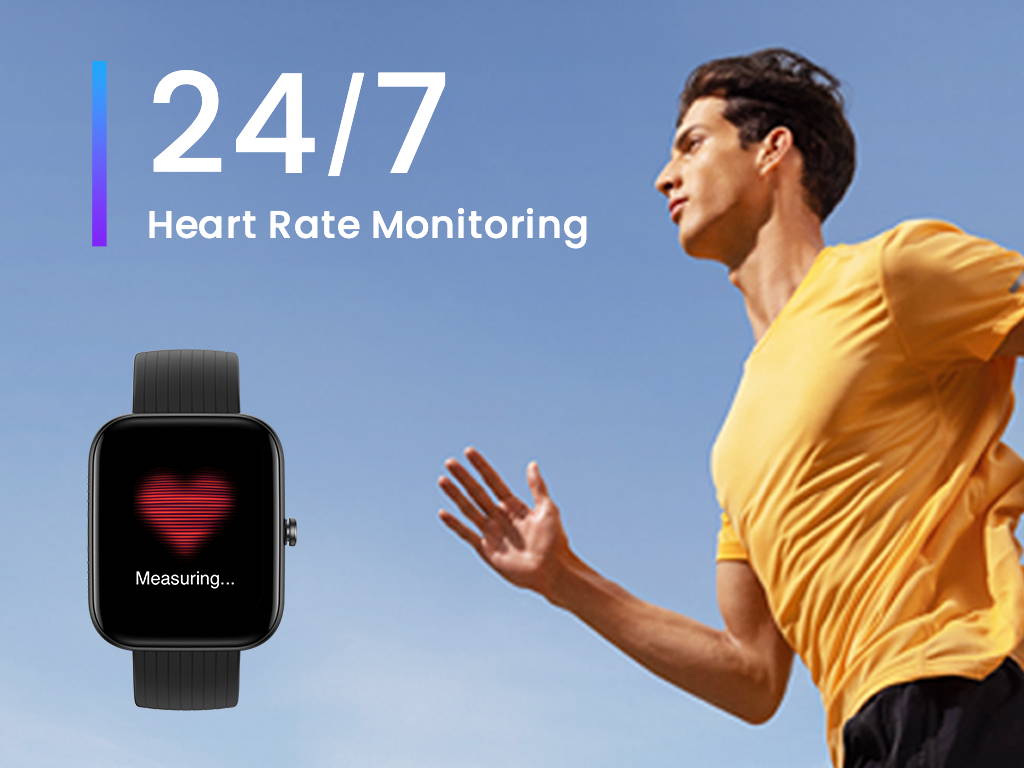 24/7 Heart Rate Monitoring
Keep an eye on the most important muscle in your body. The BIP 3 smartwatch can monitor your heart rate all day, and let you know if it becomes abnormally elevated. You can even check if you're working out in your goal heart rate zone.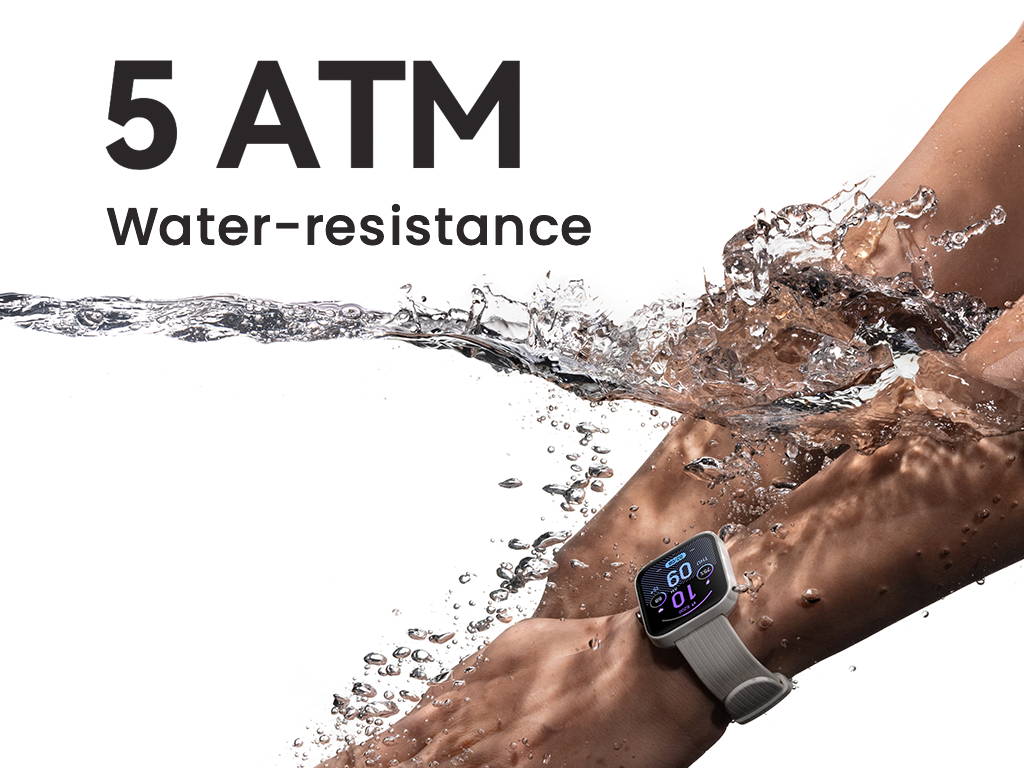 5 ATM Water-resistance
IP68 drowning your ambition? With its water-resistance grade of 5 ATM, you can swim with your BIP 3, without worry.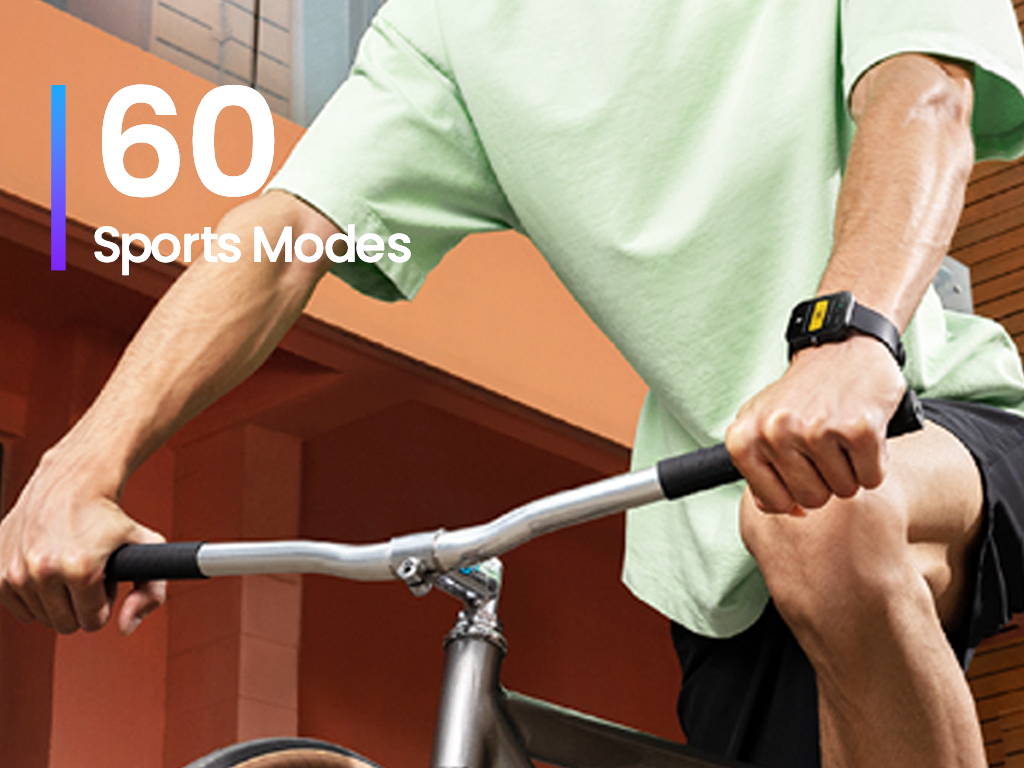 60 Sports Modes
Get data on BIP 3 for all your favorite sports, like walking, running and cycling, as well as more freeform workouts like strength training, yoga, and free training.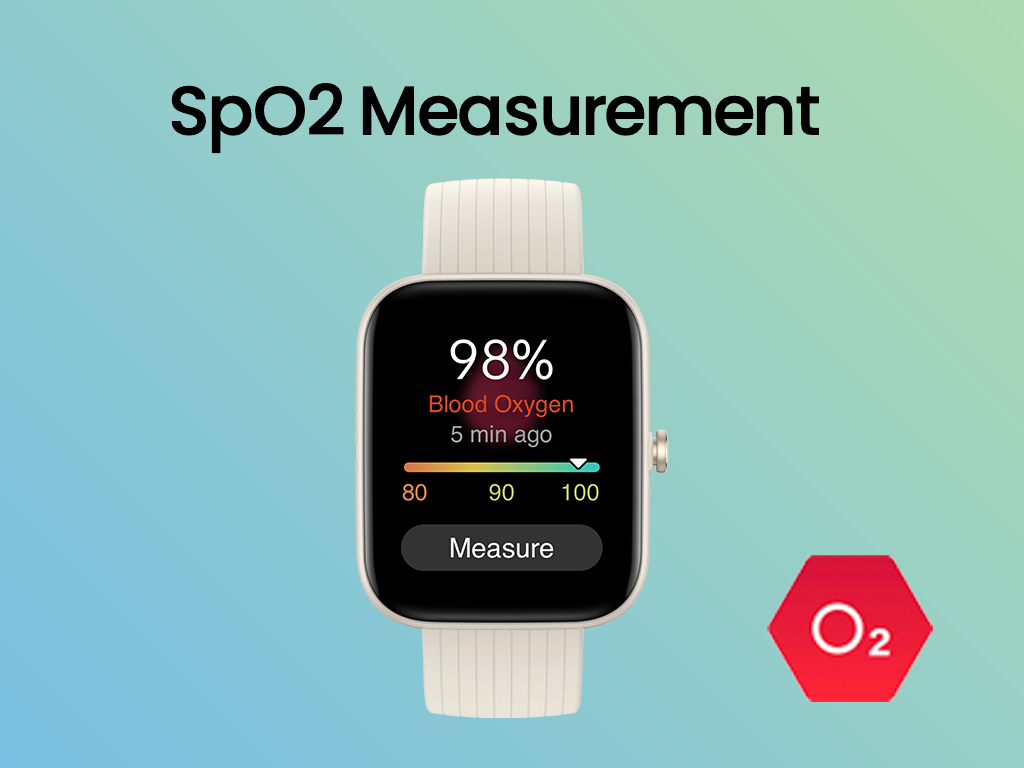 SpO2 Measurement
Feeling worn out? Or adventuring up to higher altitudes? Be smart and use the BIP 3 watch to easily measure your blood-oxygen saturation in as quick as 25 seconds, to quickly understand your physical state.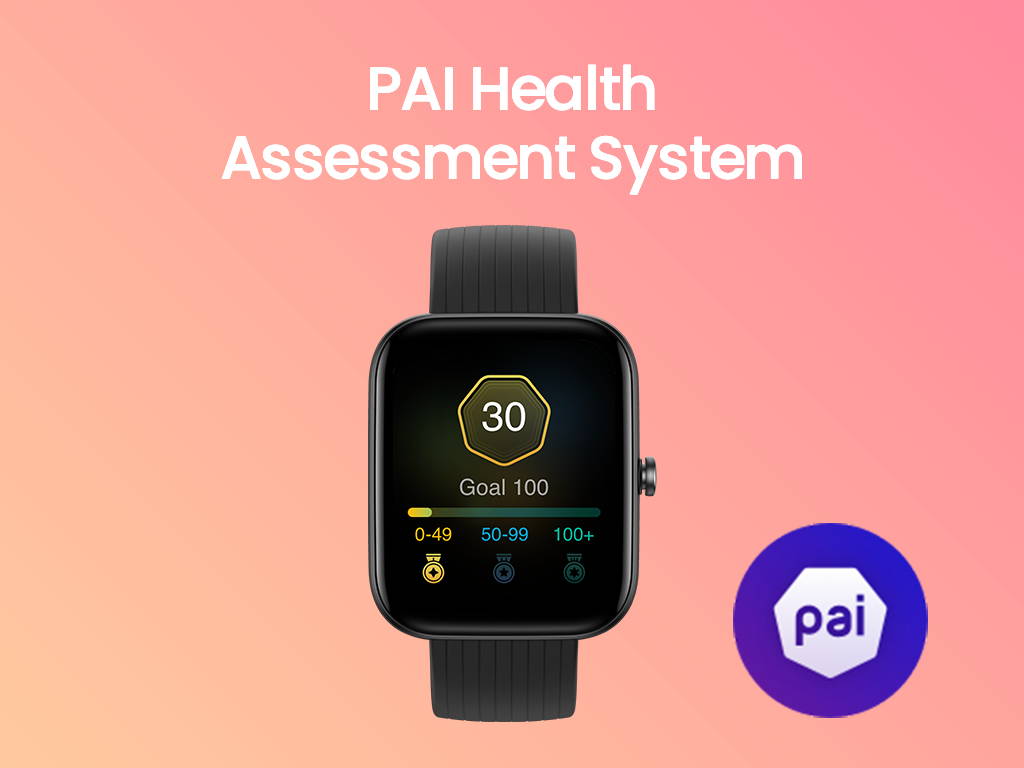 PAI Health Assessment System
Don't you wish your fitness tracker took playing with your pet into account? Even cleaning the house is hard work! Well PAI takes everyday activities into consideration, plus all your regular health and workout data - which is all then converted into a single-value score, unique to you.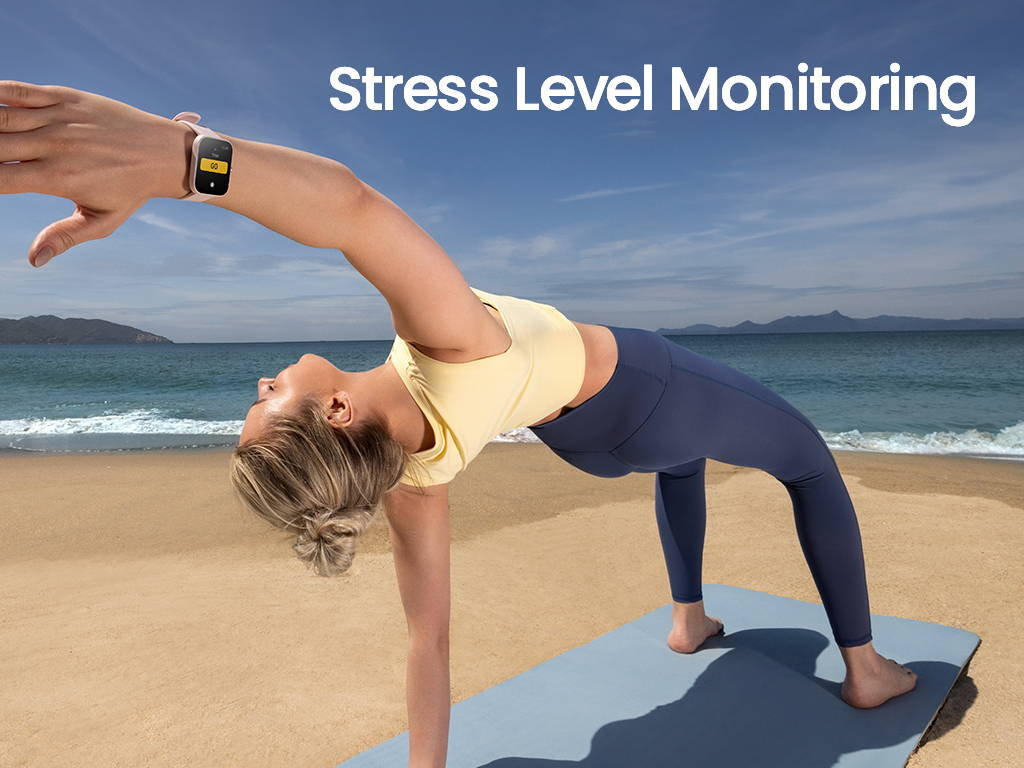 Stress Level Monitoring
Don't let stress slow your progress; use the Bip 3 smart watch to monitor your stress levels all day. Or if you feel overwhelmed at any point, calm yourself with the watch's built-in breathing exercise.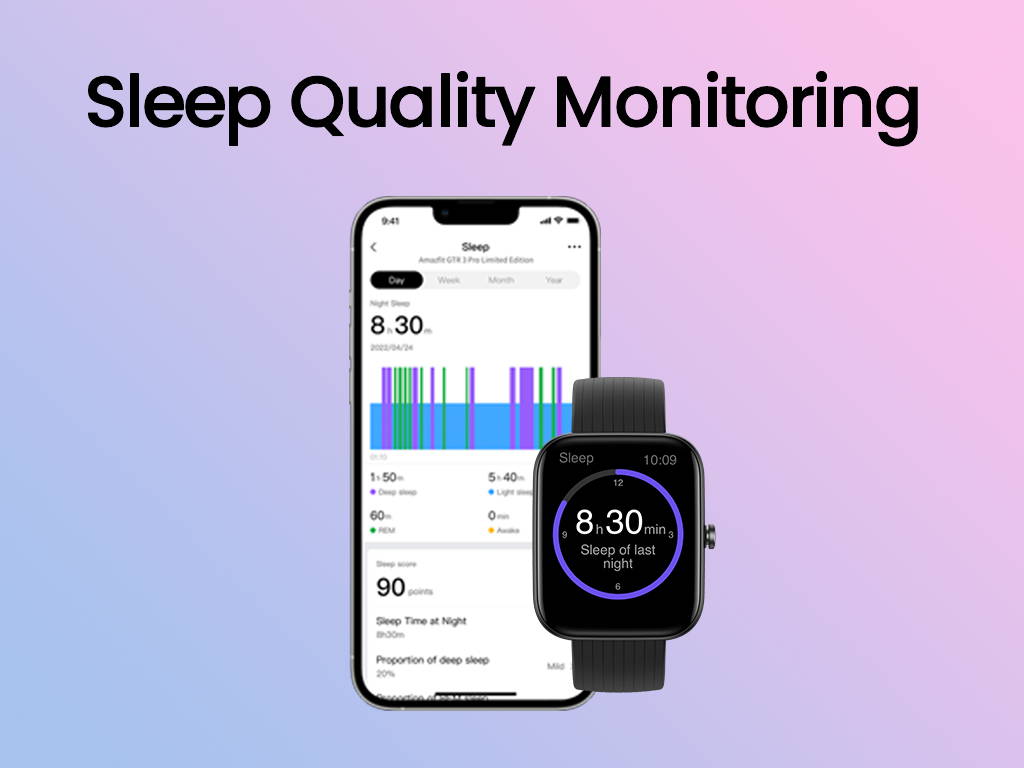 Sleep Quality Monitoring
Follow your dreams through the light, deep and REM sleep stages. The Amazfit Bip 3 smart watch can monitor your sleep quality, so you can rest well enough to keep making the fitness gains you want.
| | | | |
| --- | --- | --- | --- |
| Technical Specification Bip 3 | | | |
| Design | | Sensors | |
| Colors | Black , Pink , Cream | Health | BioTracker™ 2 PPG biometric sensor (supports blood-oxygen) |
| Dimensions | 44.12x36.49x9.65mm | Movement | 3-axis acceleration sensor |
| Weight (without strap) | | Connection | Bluetooth 5.0 BLE |
| Body Material | Plastic bottom case + middle frame spraying | | |
| Buttons | 1 | | |
| Water-resistance Grade | 5 ATM | | |
| | | | |
| | | | |
| Display | | Strap | |
| Material | TFT touchscreen | Materials | Silicone Quick release |
| Size | 1.69" (4.29 Cm) | Width | 20mm |
| Resolution | 240x280 | Min. & Max. Wrist Dimensions | 153-218mm |
| PPI | 218 | Buckle | Classic pin buckle |
| Touchscreen | 2.5D tempered glass + anti-fingerprint coating | Others | |
| | | Motor | Rotor motor |
| | | | |
| | | | |
| Battery | | Packing List | |
| Battery Capacity | 280 mAh (rated value) | Smartwatch (including standard strap), | magnetic charging cable, instruction manual |
| Charging Method | Magnetic charging cable | | |
| Theoretical Charging Duration | Approx. 2 hours | | |
| Typical Usage Scenario Battery Life | Up to 14 days | Android 7.0 and above, iOS 12.0 and above | |
| Heavy Usage Scenario Battery Life | Up to 7 days | Application | |
| | | Zepp App | |
Sports Category
Bip 3
Sports Features
Bip 3
Sports Modes
Running & walking
Sports Modes
60
Outdoor running, Treadmill, Walking
Cycling
Running Support
Target Pace
Outdoor cycling, Indoor cycling, BMX
Health Features
Outdoor workouts
Fishing, Hunting, Skateboarding, Roller skating, Sailing
24H Monitoring
Stress level
Heart rate
Indoor sports
Elliptical, Rowing machine, Stair-climbing machine, Stair stepper, Indoor fitness, Mixed aerobics, Strength training, Step training, Core training, Flexibility training, Free training, Yoga, Pilates, Gymnastics, Stretching
Manual Measurement
Heart rate
Dance
Square dance, Ballroom dance, Belly dance, Ballet, Zumba, Hip-hop dance, Dance
Blood-oxygen saturation
Stress level
Combat sports
Boxing, Wrestling, Martial arts, Tai Chi, Muay Thai, Judo, Taekwondo, Karate, Kickboxing, Fencing
Sleep Quality Monitoring
Sleep stages (including REM)
Ball sports
Basketball, Volleyball, Baseball, Table tennis, Badminton, Softball, Squash, Gateball, Cricket, Handball, Bowling
Daytime naps
Sleep breathing quality
Winter sports
Outdoor skating, Indoor skating, Curling
Sleep score
Others
Jumping rope, Archery, Equestrianism
Health Assessment System
PAI
Breathing Exercise
Support
Menstrual Cycle Tracking
Support
Health reminders
Abnormally high heart rate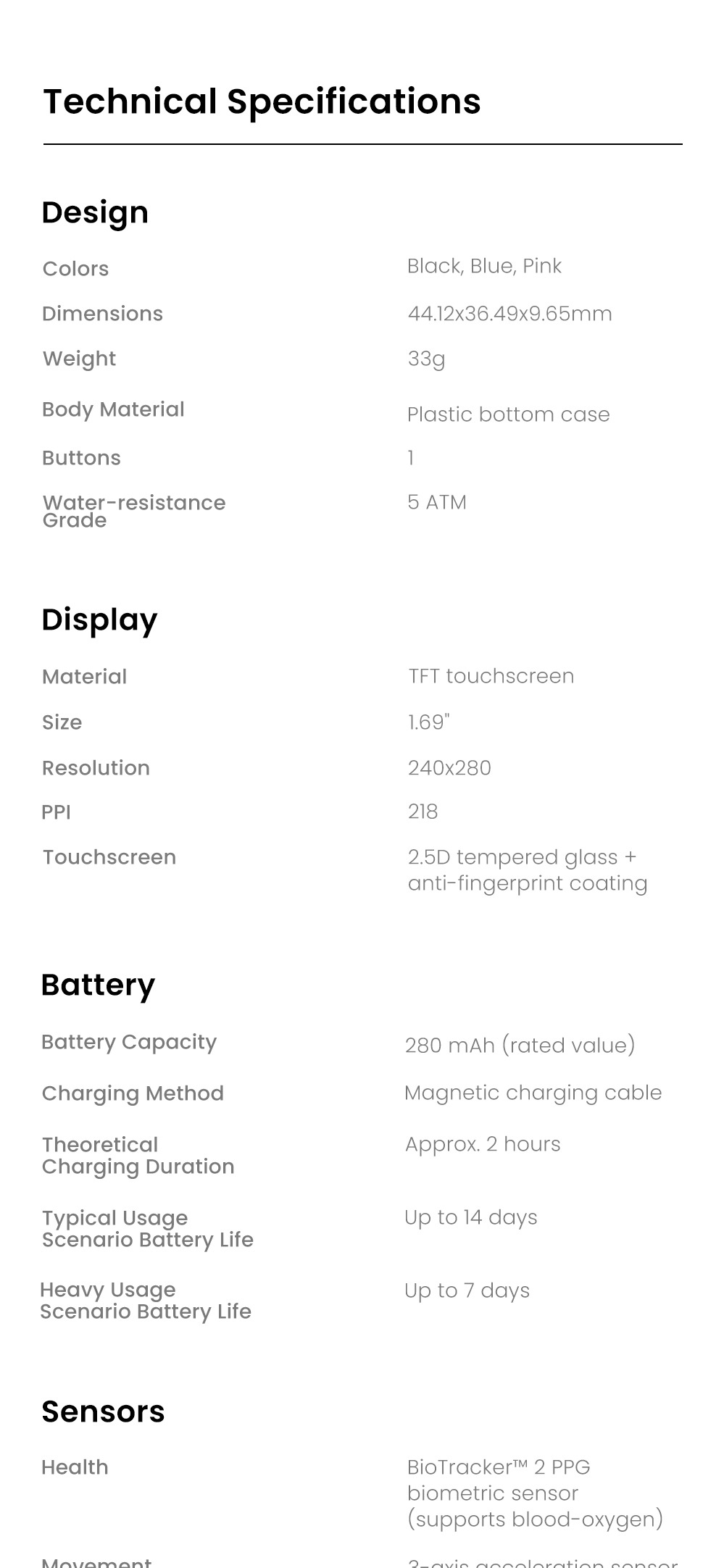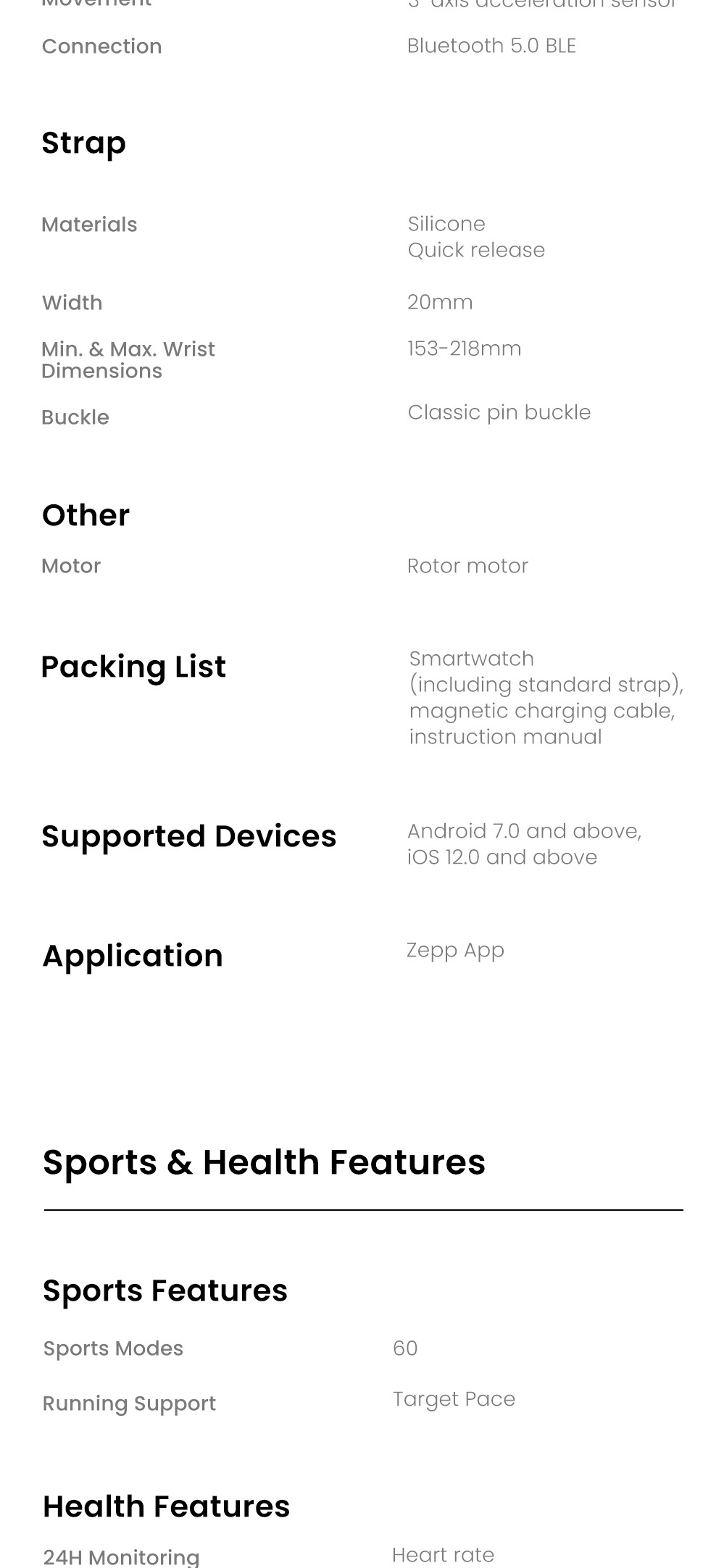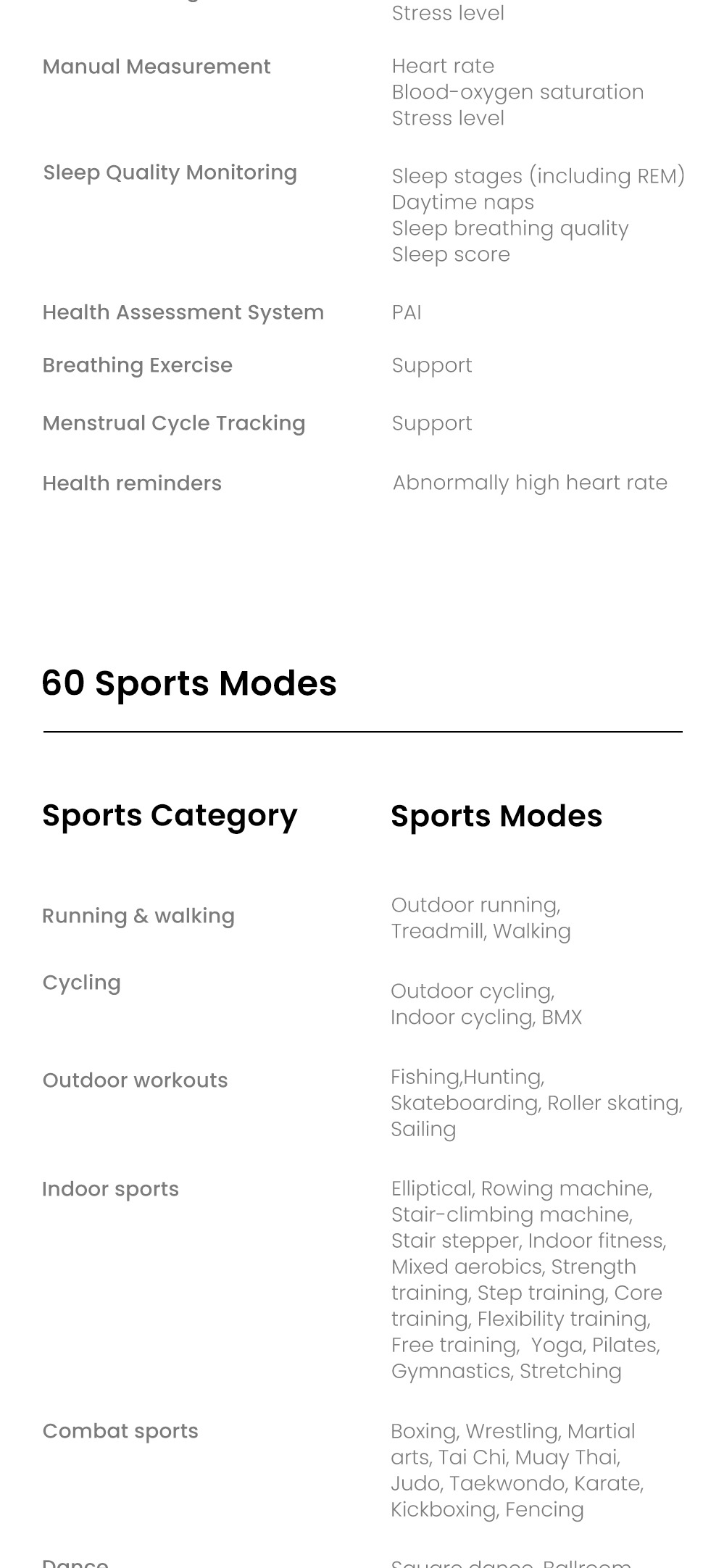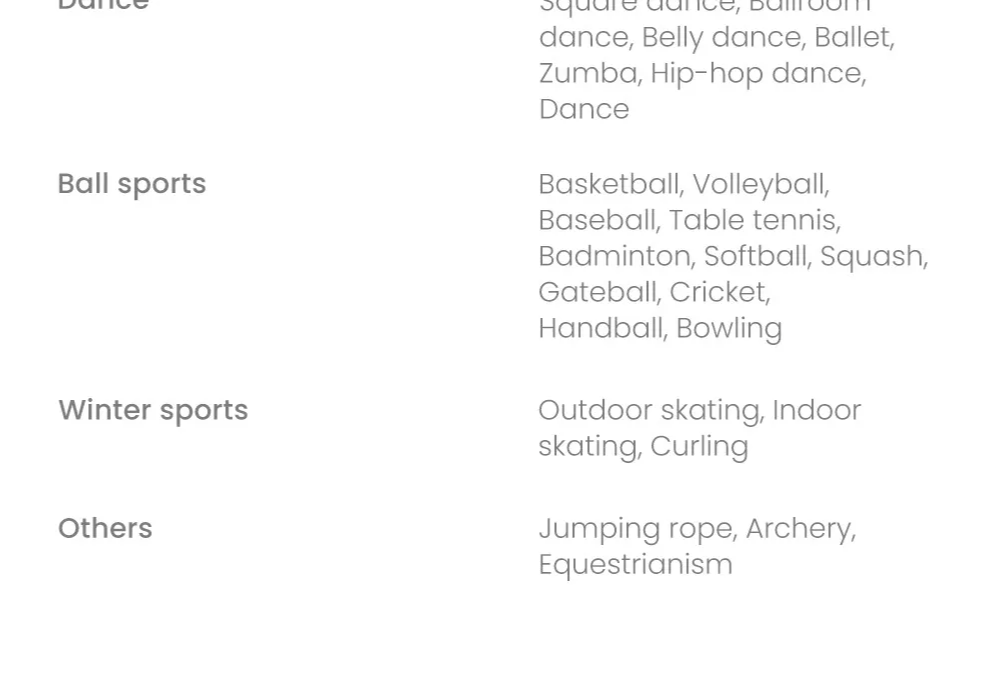 1. Some watch faces will be added via OTA update.
2. The battery life may vary according to the settings, operation conditions and other factors. So the actual result may differ from the laboratory data.
Typical usage scenario: Heart rate monitoring is always on and measures at 10-minute intervals, sleep monitoring enabled; 150 pushed messages a day; receive 3 call notifications per day; raise wrist to see watch time 100 times; test blood-oxygen 5 times per day; bright screen operations for 5 minutes per day; exercise 3 times a week.

Heavy usage scenario: Heart rate monitoring is always on and measures at 1-minute intervals, sleep monitoring enabled with 8 hours of sleep breathing quality monitoring, stress monitoring enabled; 150 pushed messages a day lighting up the screen display; receive 3 call notifications per day; raise wrist to see watch time 100 times; test blood-oxygen 5 times per day; bright screen operations for 5 minutes per day; exercise 3 times a week.
3. According to the ISO 28810:2010 standard, the Amazfit Bip 3 achieves a rating of 5 ATM, for a water-resistance of up to 50 meters, and is therefore suitable for splashes, snow, showering, swimming, or some high-speed water sports. It has passed third-party testing conducted by SGS, and the report number is SHES220300374471. Remove the watch when taking a hot shower or trip to the sauna, since too much steam can affect the seal and make it less water-resistant in future. Do not wear the watch with a leather or metal strap when swimming - when preparing to swim, change to a fluoroelastomer strap or other suitable type. For more information, please visit the support page at: support.amazfit.com
4. Target Pace is only compatible with Outdoor Running and Treadmill sports modes.
5. Indoor positioning services are not supported. Positioning speed and accuracy may be affected by the surrounding environment. The watch can automatically connect to up to four satellite systems at a time, and specific satellite connections may depend on your location.
6. This product and the Zepp App are not medical devices and cannot be used for medical purposes, or as basis for diagnosis of any medical condition. Detection results are provided for reference only. Please consult professional medical institutions if you feel unwell.
7. The 24-hour heart rate monitoring feature requires the user to enable Auto Heart Rate Monitor in the Zepp App, and the minimum value can be set to 1 minute. Abnormal heart rate alerts and the preset value need to be set in the Zepp App. Movement, and environmental and physical characteristics can affect speed and accuracy of monitoring and measurement.
8. Sleep monitoring can record night sleep and naps that last more than 20 minutes. Sleep Breathing Quality tracking needs to be enabled in the Zepp App or in the settings of the watch's Sleep feature.
9. The 24-hour stress level monitoring needs to be enabled on the watch or in the Zepp App. Alerts for high stress levels are based on the preset value.
10. The HUNT Fitness Study indicates that people who maintain a PAI score of 100 or higher show lower risk of hypertension, heart disease, and type-2 diabetes. HUNT Fitness Study: This study was conducted by Professor Ulrik Wisloff of the Faculty of Medicine, Norwegian University of Science and Technology. It lasted for more than 35 years and had more than 230,000 participants. To use this function, all-day heart rate monitoring must be enabled.
The product images and screen content shown above are for reference purpose only. The actual product (including but not limited to its appearance, color and size) and screen display content (including but not limited to the background, UI and graphics) may differ slightly.
The data that is provided on this page without a specified source is taken from internal laboratories or supplier data, and has been obtained under a specific test environment. The product's actual performance may differ slightly due to product individual differences, software versions, usage conditions and environmental factors.
To provide product information, specifications and characteristics as accurately as possible, our company may adjust and revise the text descriptions, images and other content in the above pages at any time. Due to real-time changes in product batches and production-supply factors, we may modify the above information as required without providing a special notice.
The radio waves generated by the equipment may affect the normal operation of implanted medical equipment or personal medical equipment, such as pacemakers and hearing aids. If you use these devices, please consult their manufacturers for restrictions on using this device.
The product should not be worn in environments with strong magnetic fields such as MRI machines or medical imaging machines, as they may cause damage to the watch.
What is difference between Amazfit BIP 3 and BIP 3 Pro?
The prime difference between BIP 3 and BIP 3 pro is GPS. The Amazfit Bip 3 Pro supports 4 satellite positioning systems to help you track your moves through the great outdoors with high-precision.
What is the launch offer price of Amazfit BIP 3?
The launch offer price of BIP 3 is 2999 INR and valid only till 27th June, i.e launch day.
What all sensors Amazfit BIP 3 has?
Amazfit BIP 3 has BioTracker™ 2 PPG biometric sensor (supports blood-oxygen), Movement 3-axis acceleration sensor and Bluetooth 5.0 BLE sensor. More details are available on specsheet.
How to claim BIP 3 Warranty?
All Amazfit BIP 3 device comes with standard 12 Months Warranty. To claim 1-year support and warranty call - 18004199680 or contact us here.