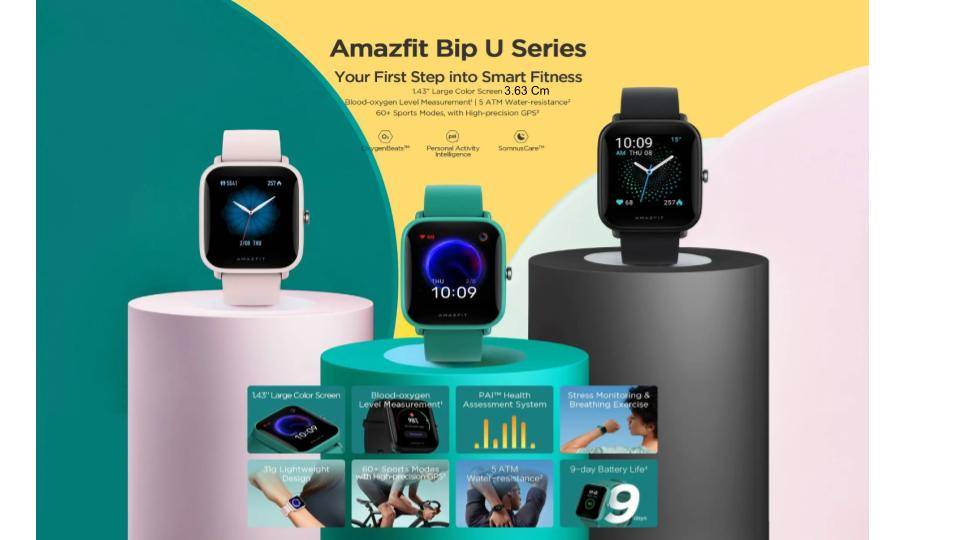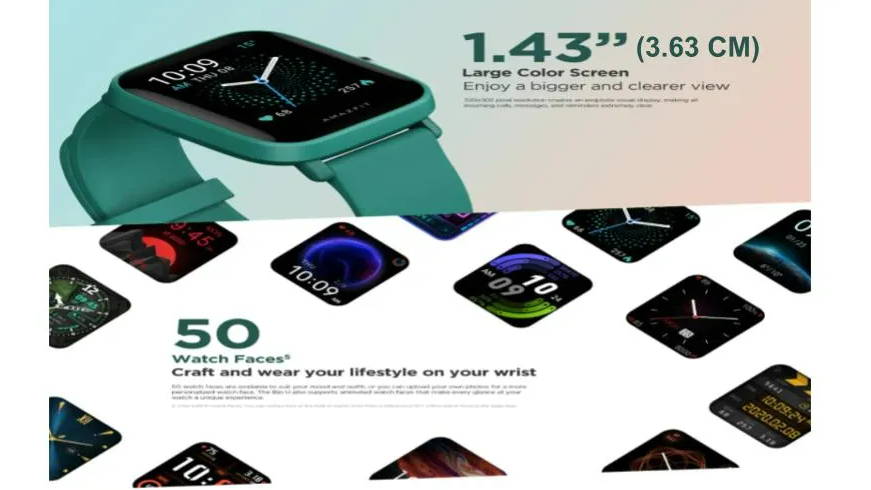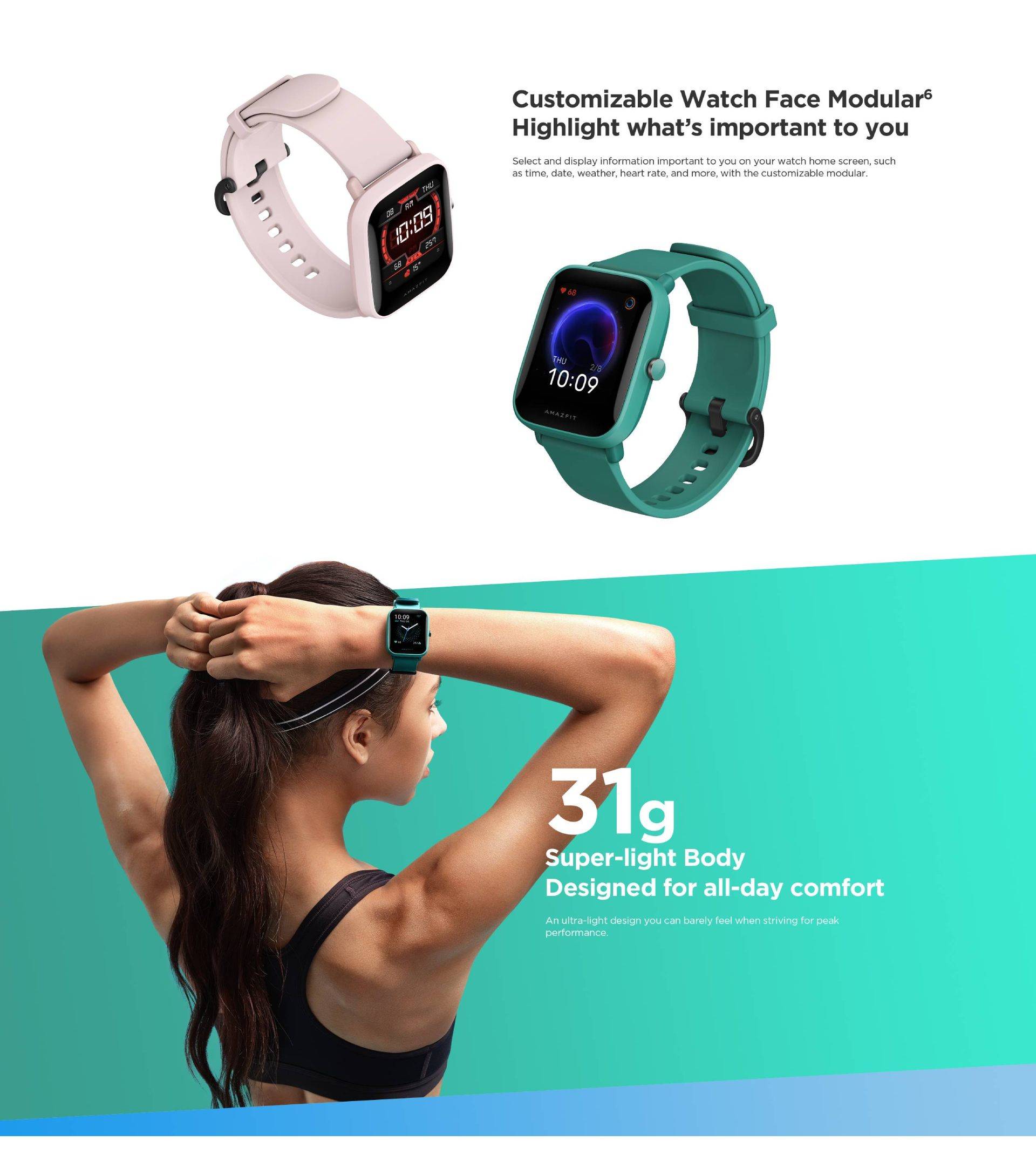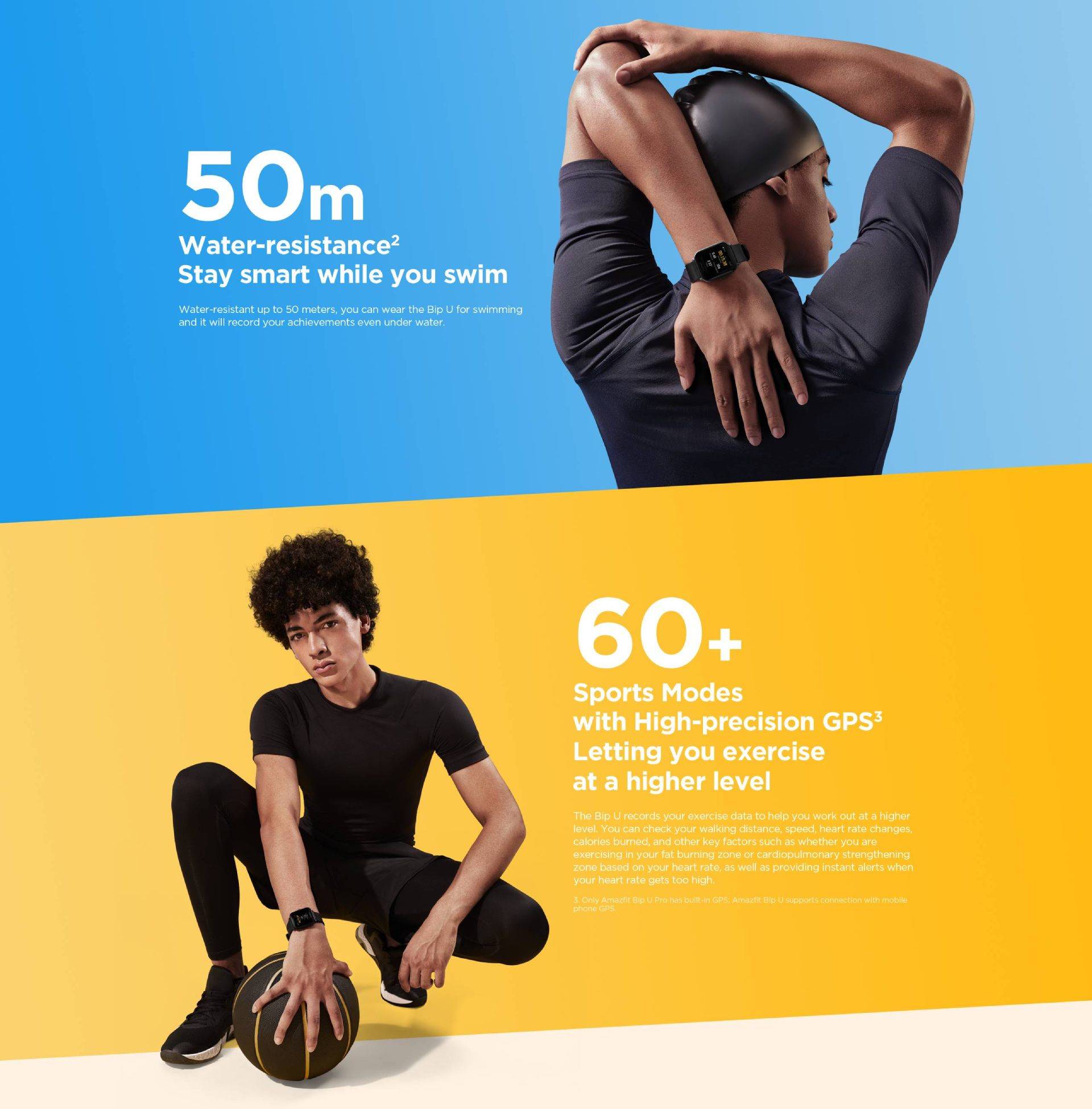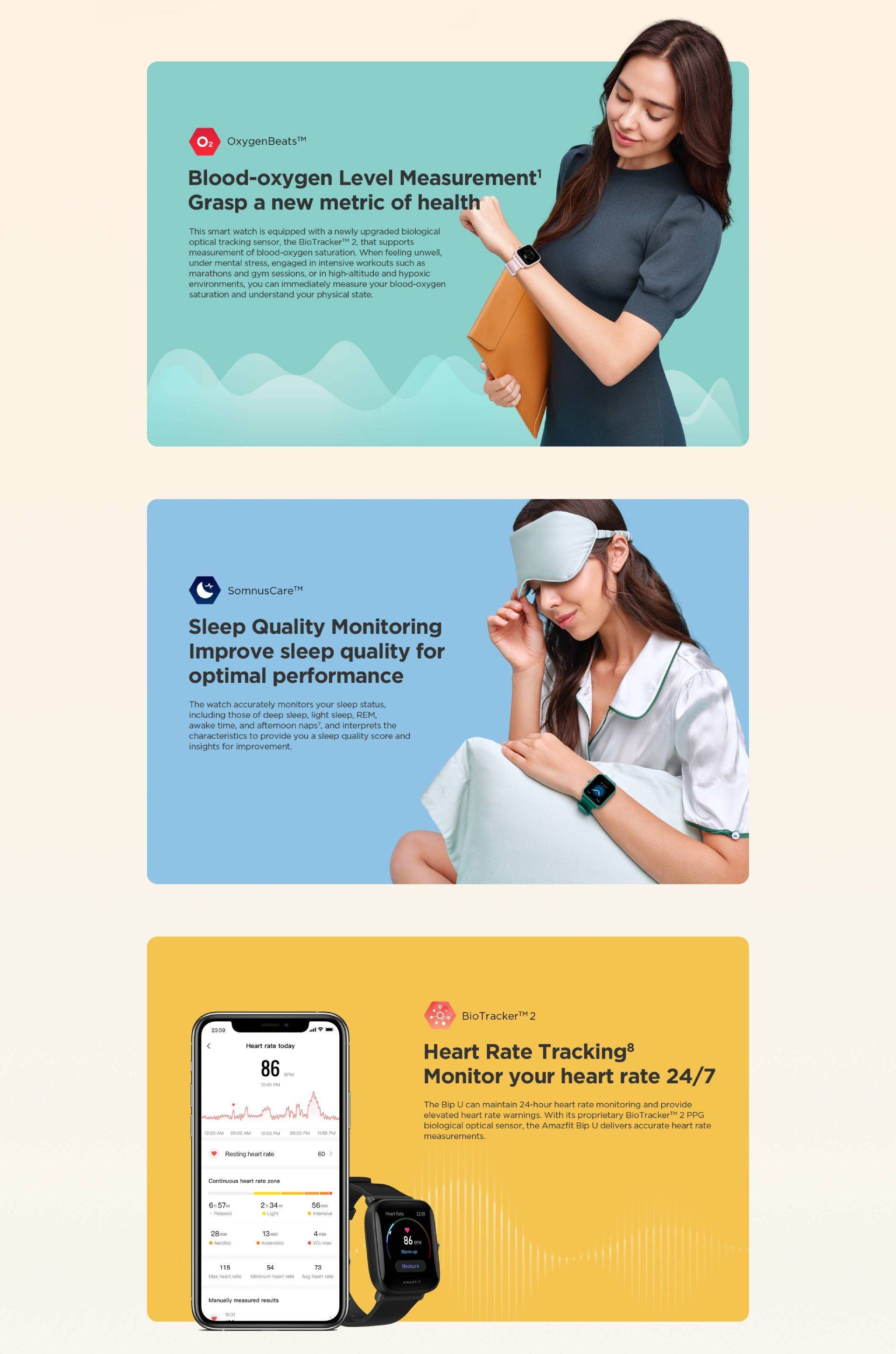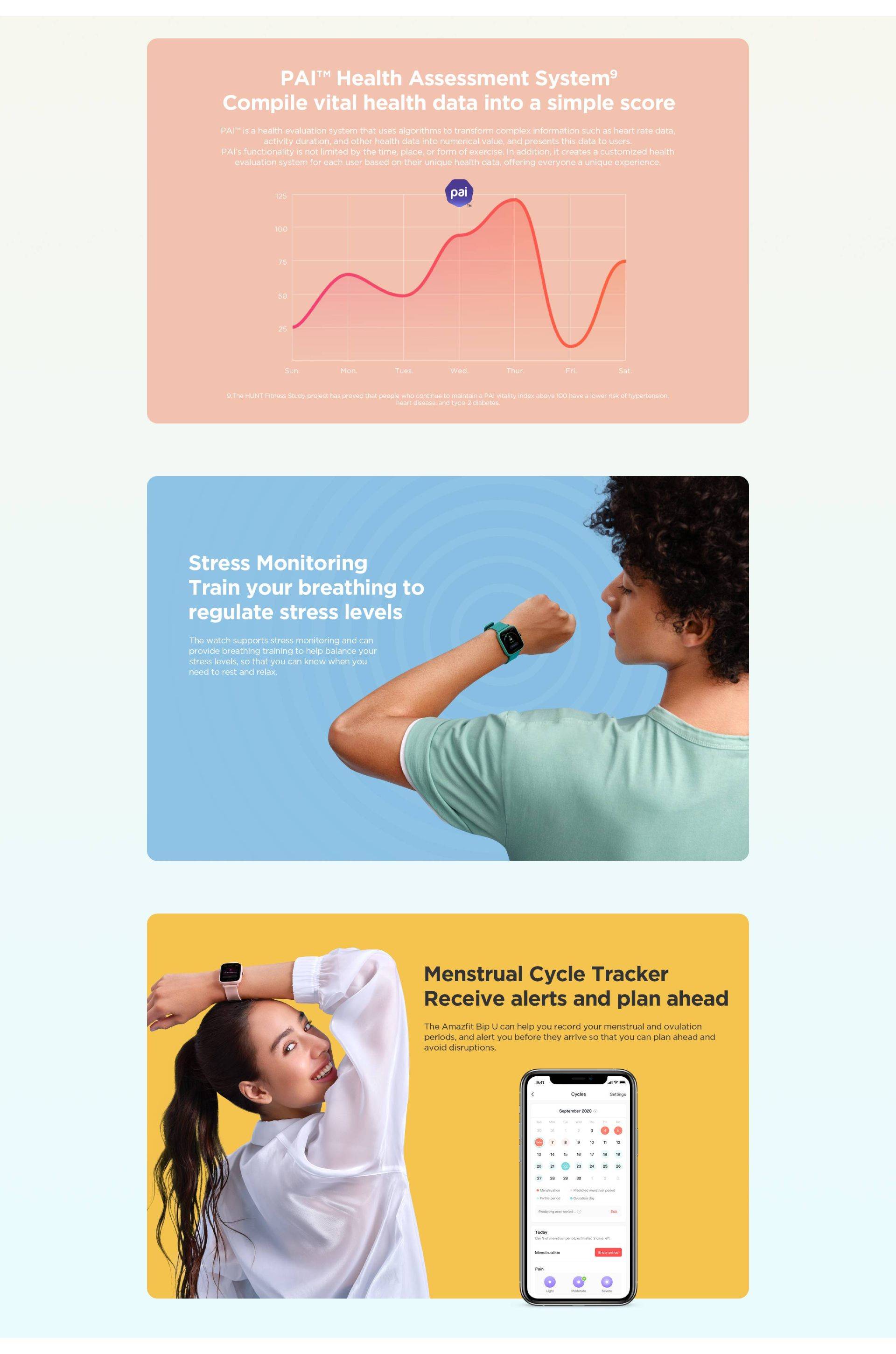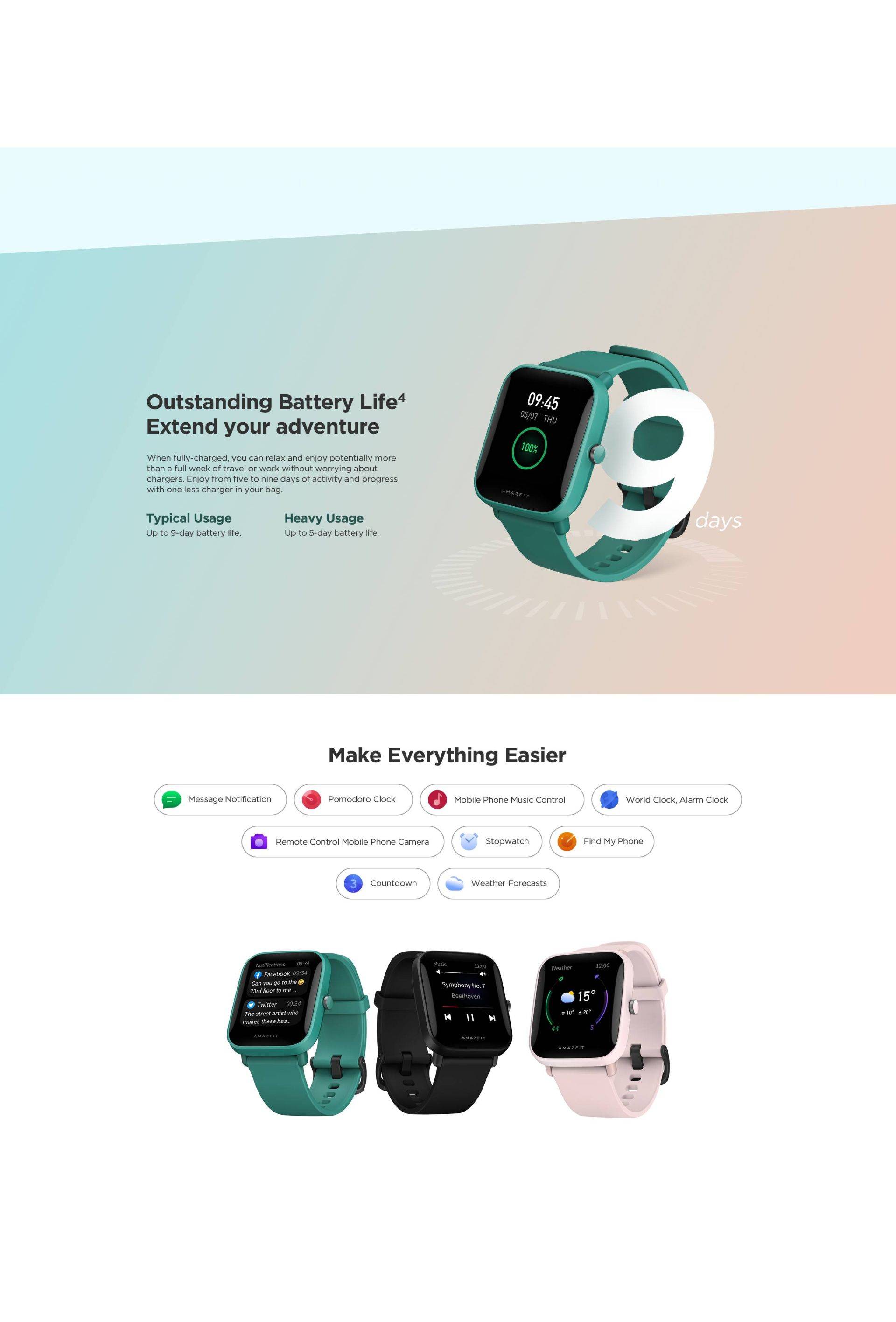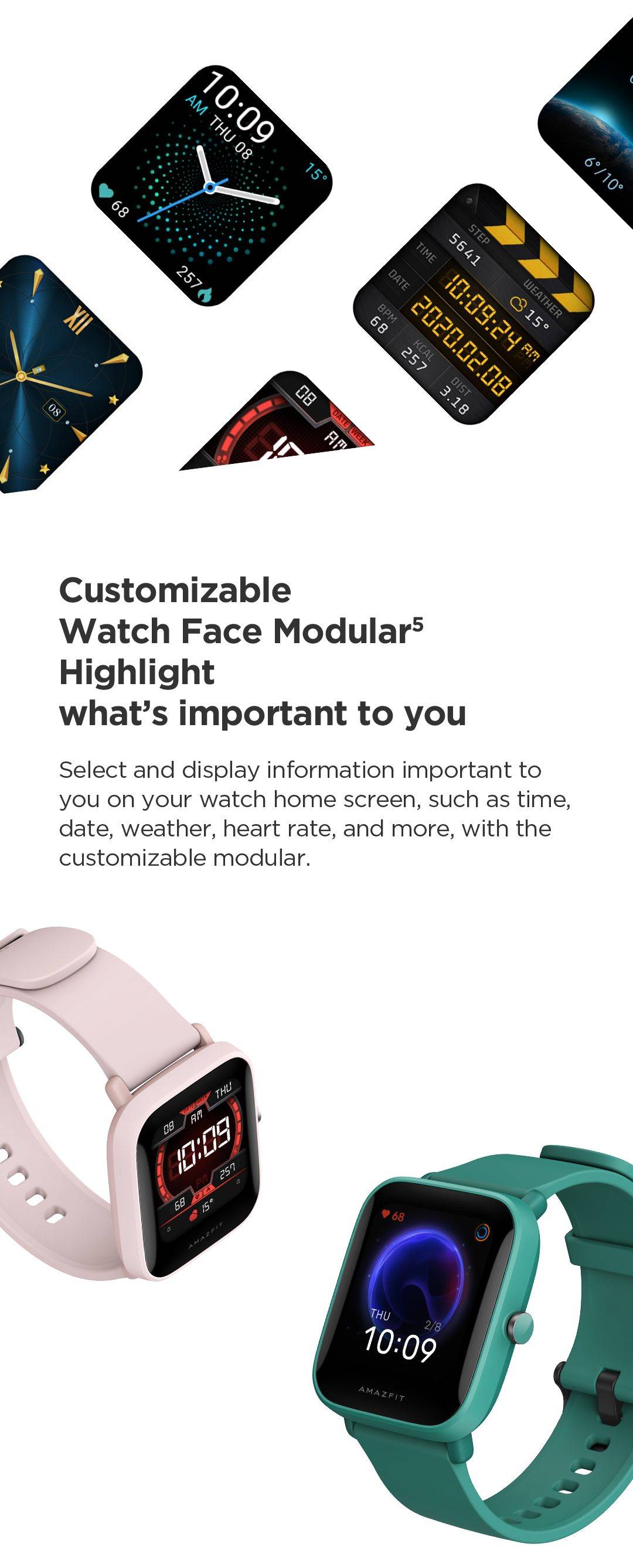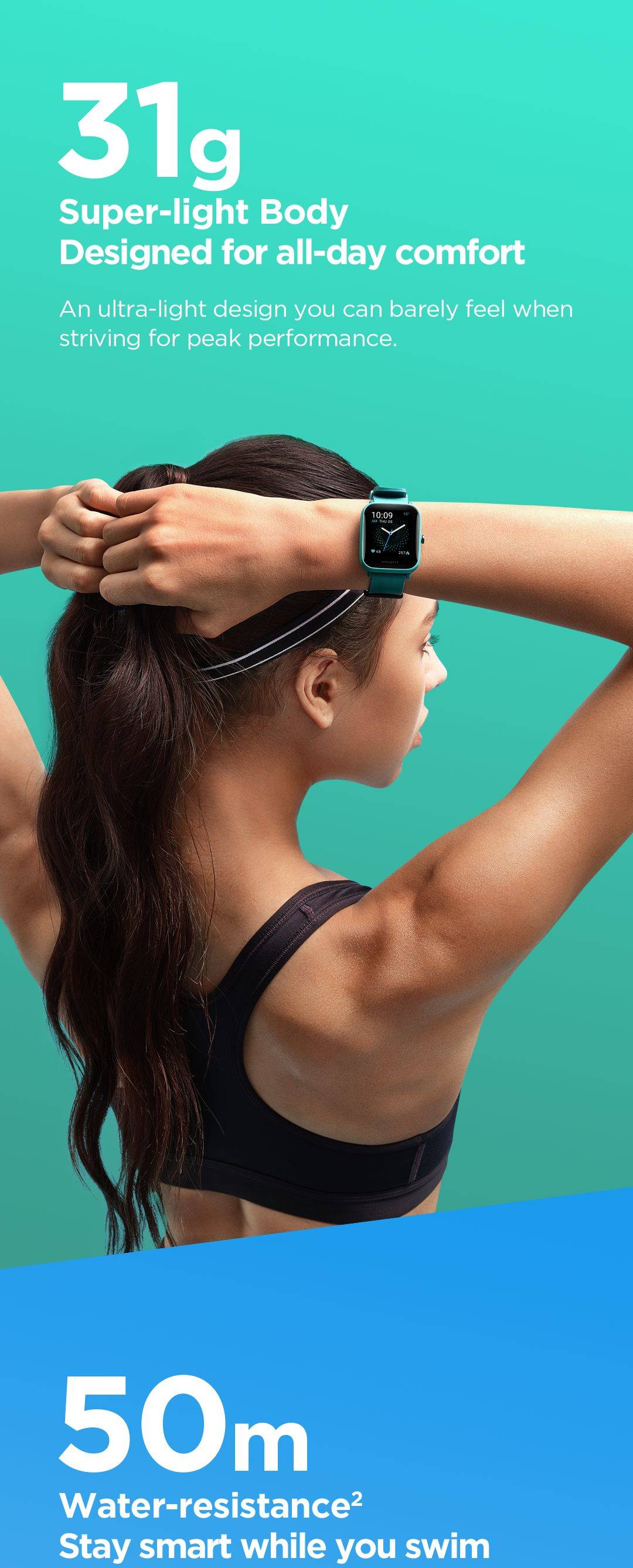 Specifications
Dimensions
40.9 x 35.5 x 11.4mm
Body material
Polycarbonate
Strap material
Silicon rubber
Strap length
118 mm (long version), 76 mm (short version)
Waterproof rating2
40.3*41*11.7mm
Display
1.43"(3.6 Cm) full color TFT, resolution 320x302
Touch screen
2.5D glass + anti-fingerprint coating
Sensors
BioTracker™ 2 PPG Biological Optical Sensor;
Acceleration sensor;
Gyroscope sensor;
Geomagnetic sensor (Amazfit Bip U Pro only)
Positioning
Microphone
Amazfit Bip U Pro only
Battery
230mAh lithium-ion polymer battery (Typical value)
Charging time
About 2 hours
Charging method
Clip / 2-pins POGO pin
Battery Life
Typical usage scenario: 9 days4
Supported Devices
Android 5.0 or iOS 10.0 and above
Accessories
Clip dock, user manual
App
Zepp App (formerly known as the Amazfit App)
Note:
1. Test conditions: the device is fully charged, the automatic heart rate measurement feature is enabled for 10 minutes, the Activate on Raise feature is enabled, and other settings are kept in default states. Each day involves the following operations: 50 notifications are received and displayed, 200 screen activations on raise are conducted, outdoor running every other day for 30 minutes and SpO2 measurement twice per day. During actual use, battery life is related to various factors such as settings, operations, and operating conditions, and therefore may differ from laboratory data.
2. Four built-in watch faces. You can replace two of the built-in watch faces from a selection of 40+ online watch faces in the Zepp App.
3. Only the two built-in faces support customizable modular.
4. To monitor the REM cycle, the Sleep Assistant heart rate tracking mode must be enabled. During REM sleep, your eyes move quickly in different directions. Dreams typically happen during REM sleep. Only naps that exceed 20 minutes can be monitored.
5. This product is not a medical device. All the measurement data and results are provided for reference only and cannot be used to perform professional diagnosis or monitoring of any medical conditions.
6. The Personal Activity Intelligence is a personal physiological activity indicator. Based on heart rate data, daily activity intensity, and multidimensional dynamic comprehensive evaluation of personal physiological data, it's converted into an intuitive PAI value using an algorithm to help you understand your physical condition without relying on single data. According to the HUNT Fitness Study research results, keeping your PAI value above 100 reduces the risk of death by cardiovascular disease and increases life expectancy. HUNT Fitness Study: This study, a sub-project of the HUNT study, was led by Professor Ulrik Wisloff from the Medical School of Norwegian University of Science and Technology. To use this function, all-day heart rate monitoring must be enabled.

Statement
The product images and screen contents on the pages above are for the purpose of illustration only. The actual product (including but not limited to appearance, color, size) and screen display contents (including but not limited to background, UI, and pictures) may be slightly different, so the actual product shall prevail.
The data on the pages above are theoretical values. All data, unless otherwise specified, is provided by internal laboratories or suppliers, and is obtained under specific test conditions. Actual use may vary slightly due to individual product differences, software versions, use conditions, and environmental factors, so actual usage data shall prevail.
To provide the most accurate product information, specifications, and product characteristics, our company may adjust and revise the text descriptions, images, and other content on the pages above at any time to match actual product performance, specifications, indexes, parts and other information. Because of real-time changes in product batches and production and supply factors, we will not specifically notify you in the event of the modifications and necessary adjustments described above.