Offer Valid for limited orders.

Wireless Charging
Over Two Weeks of Battery Life
SpO2 Level Measurement
Heart Rate & Stress Level Monitoring
Titanium Alloy Body
Free Standard Shipping
12 Months Warranty
7 Days Replacement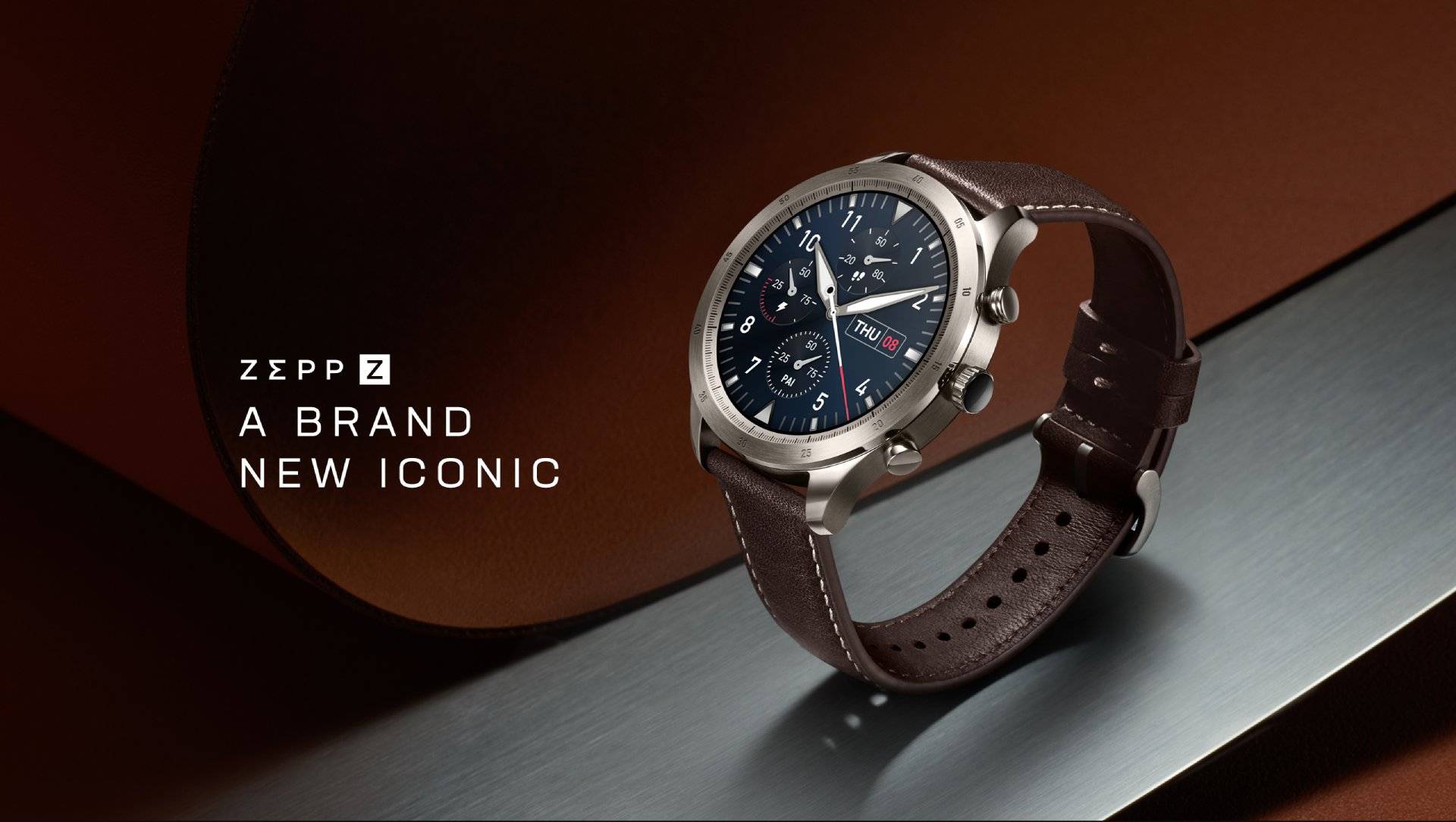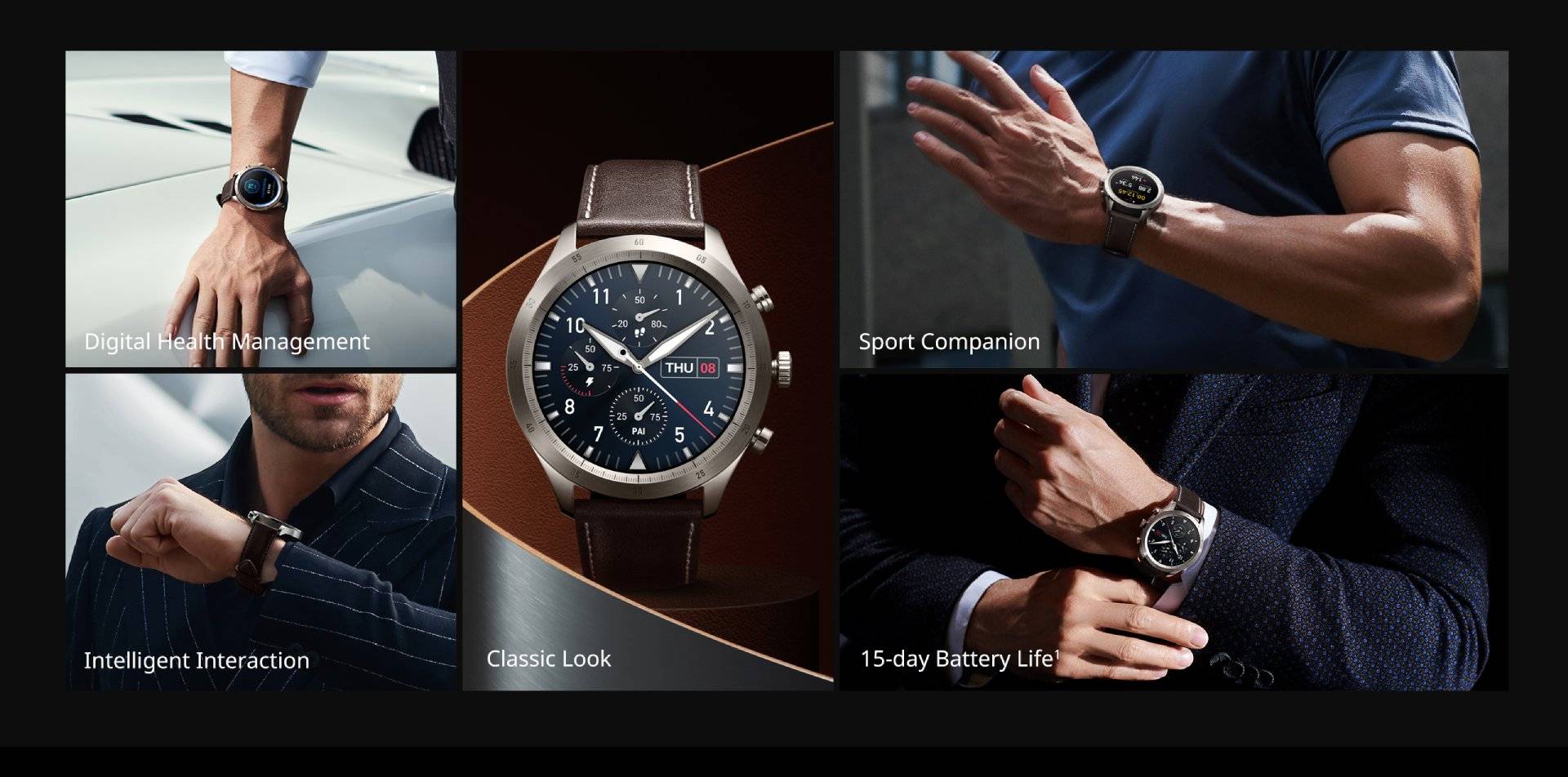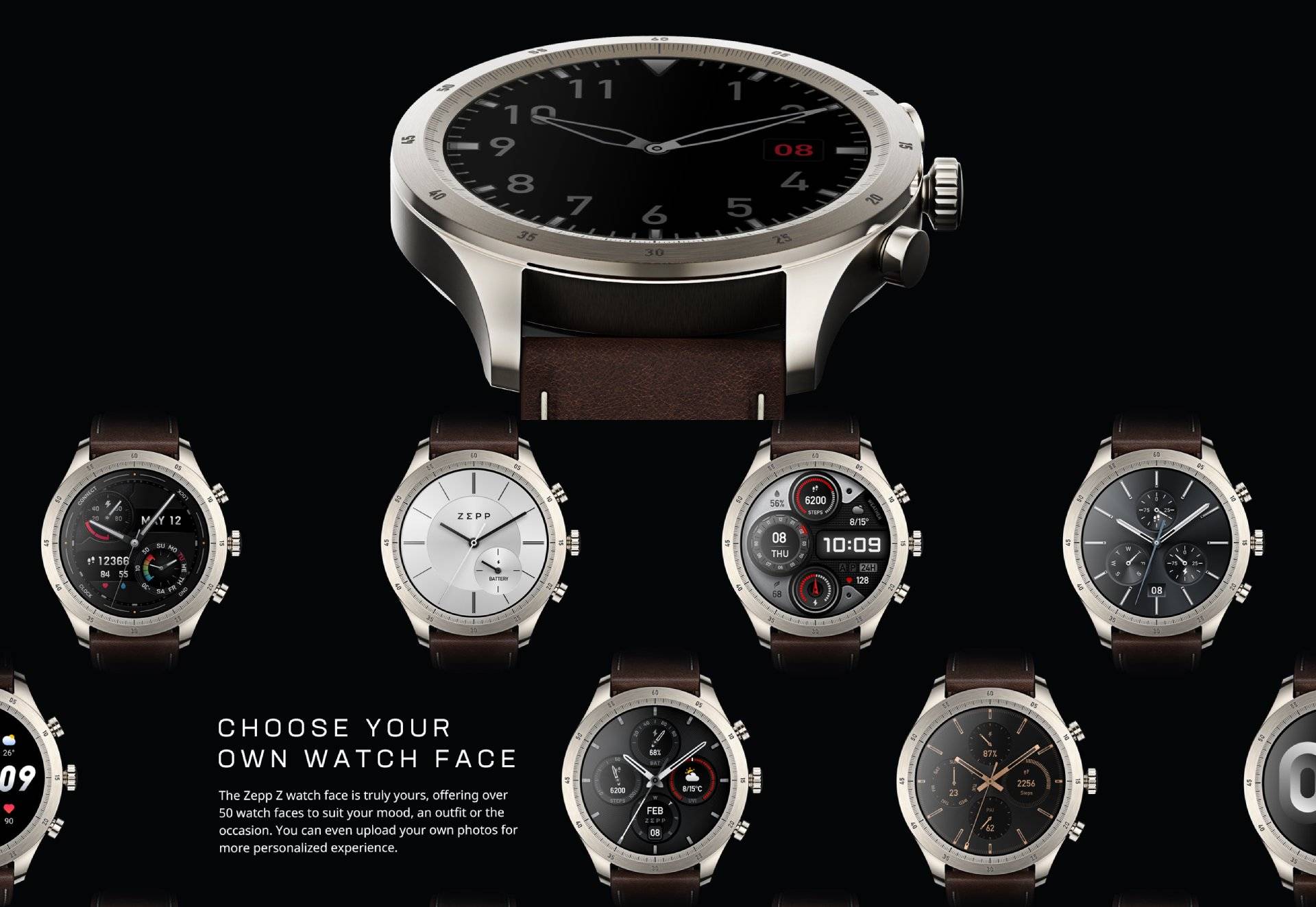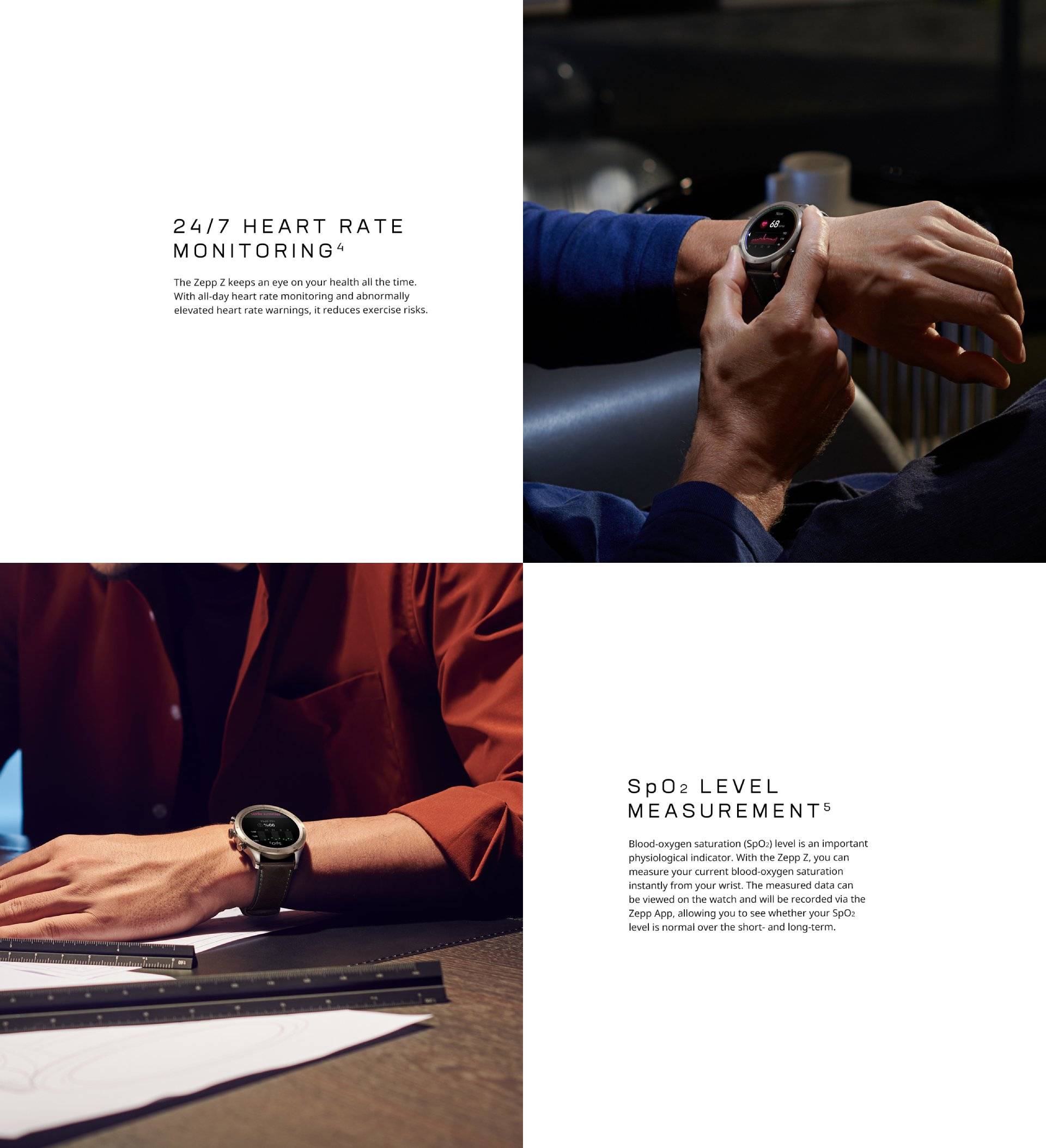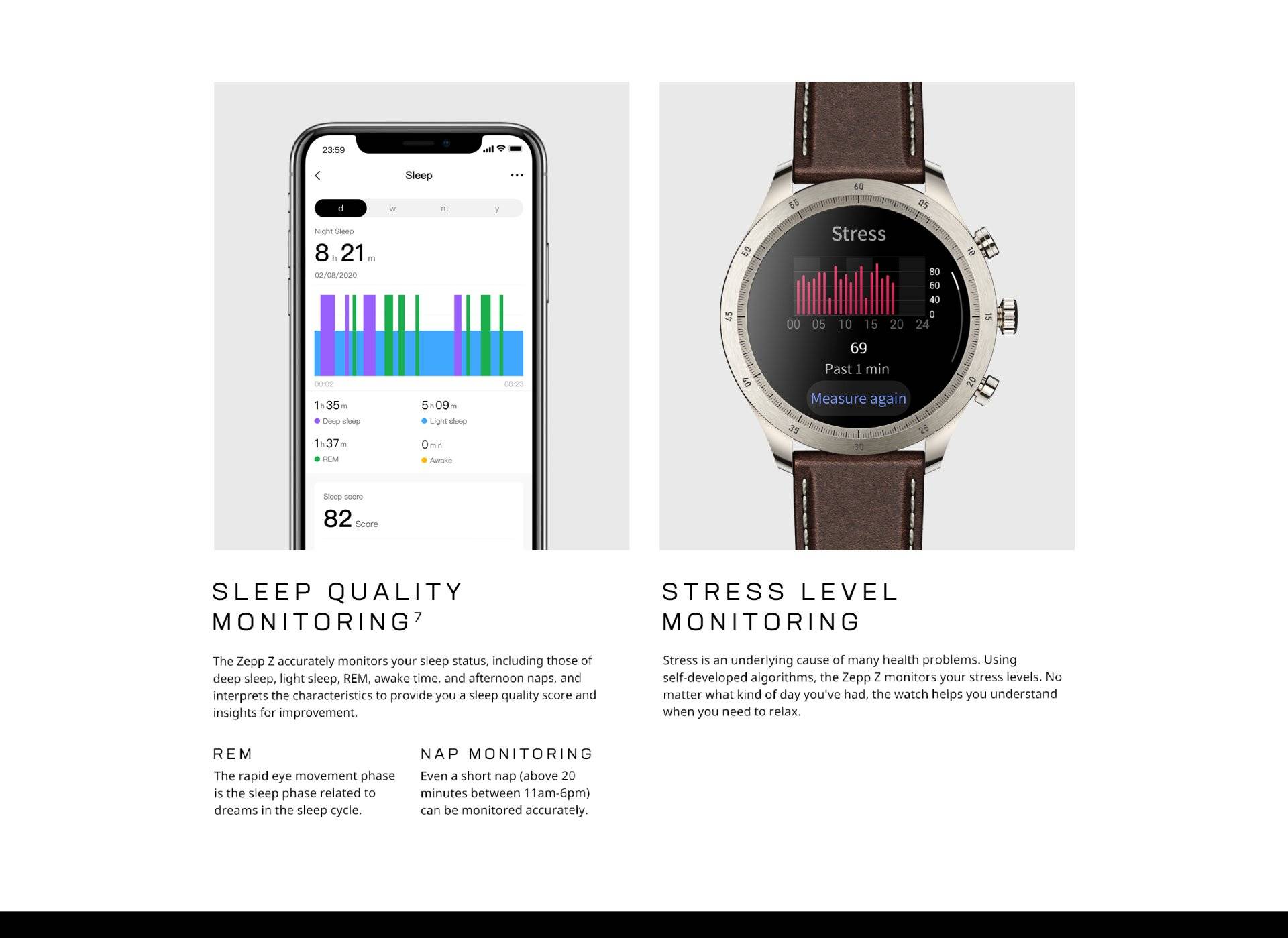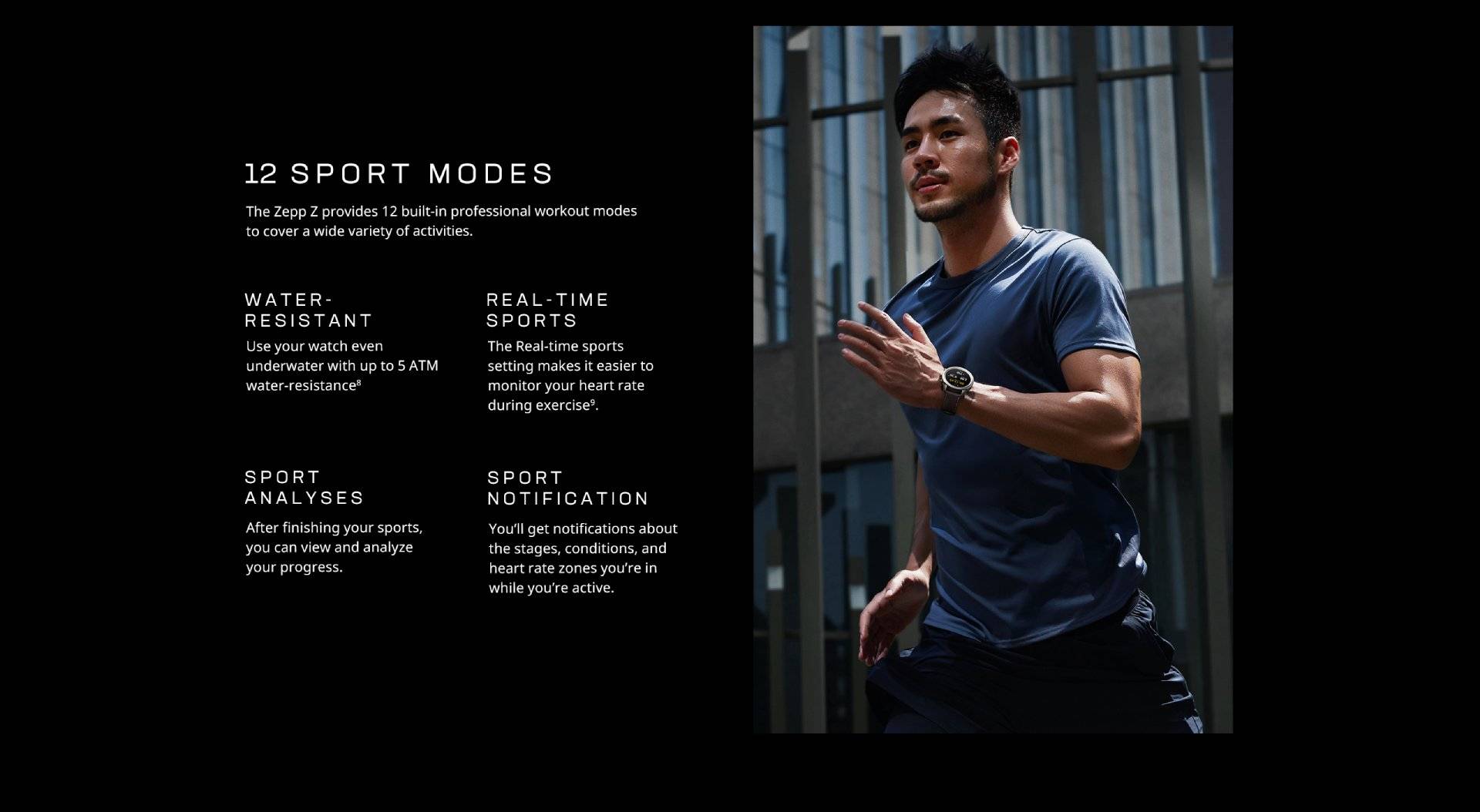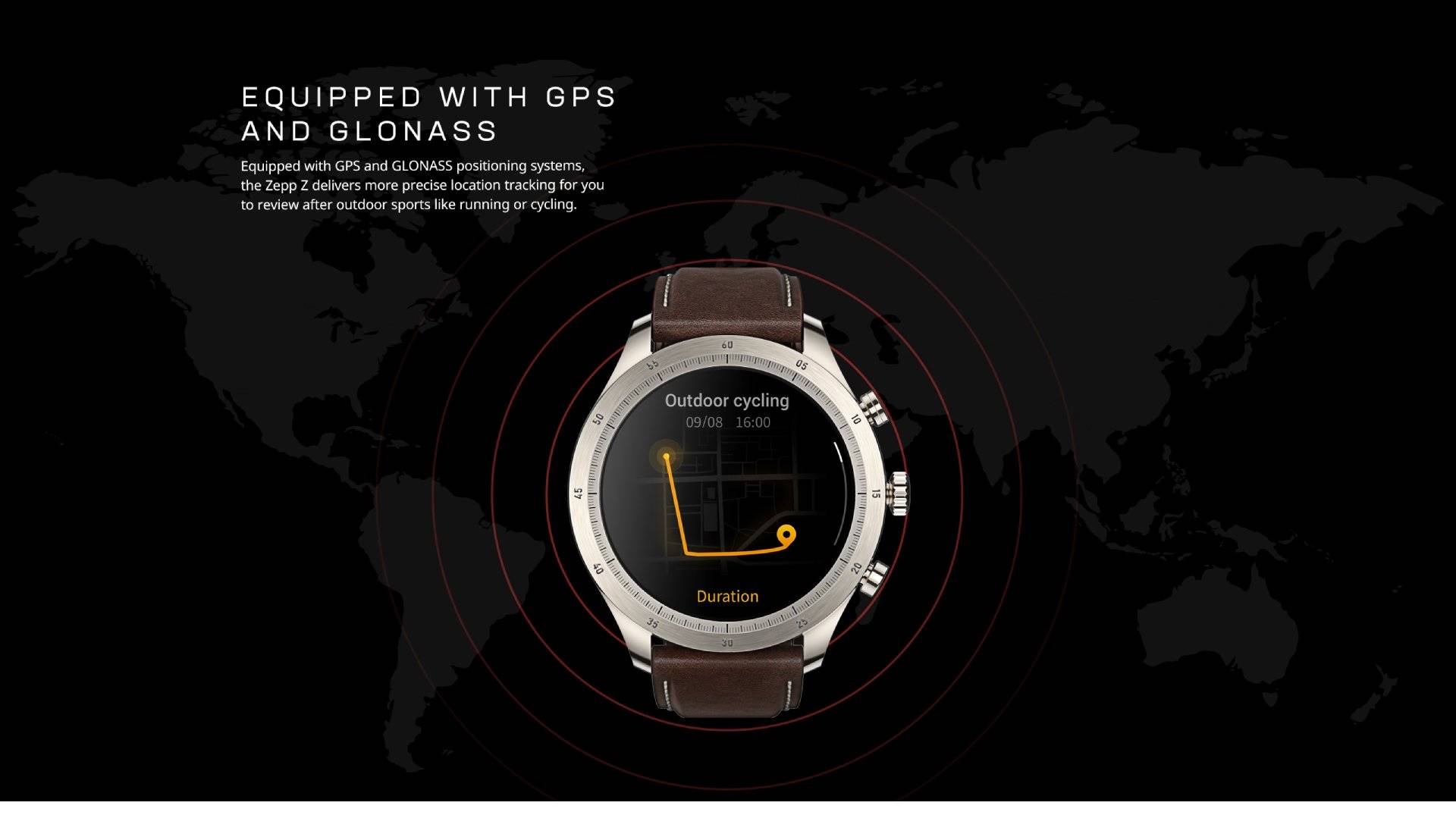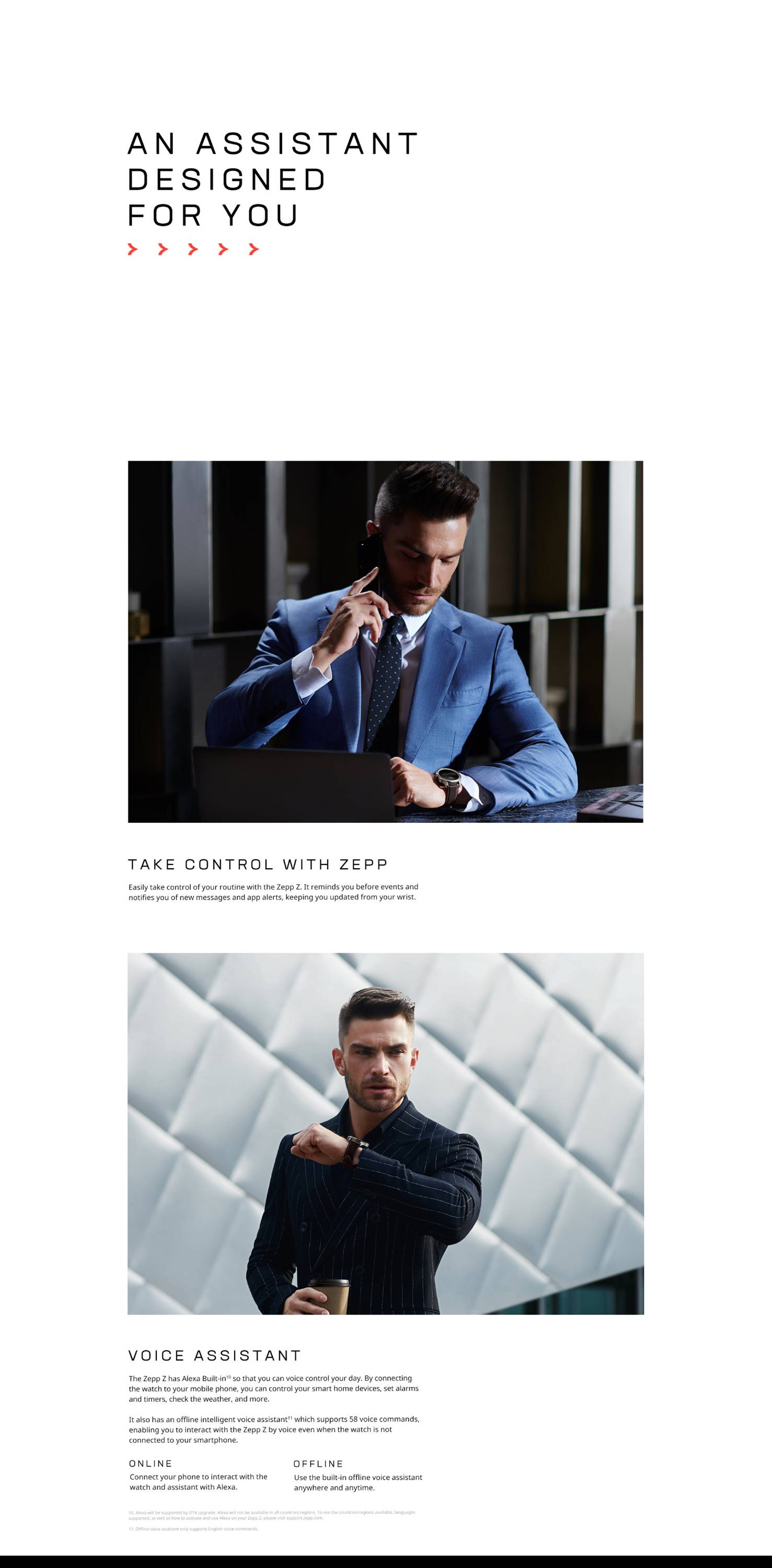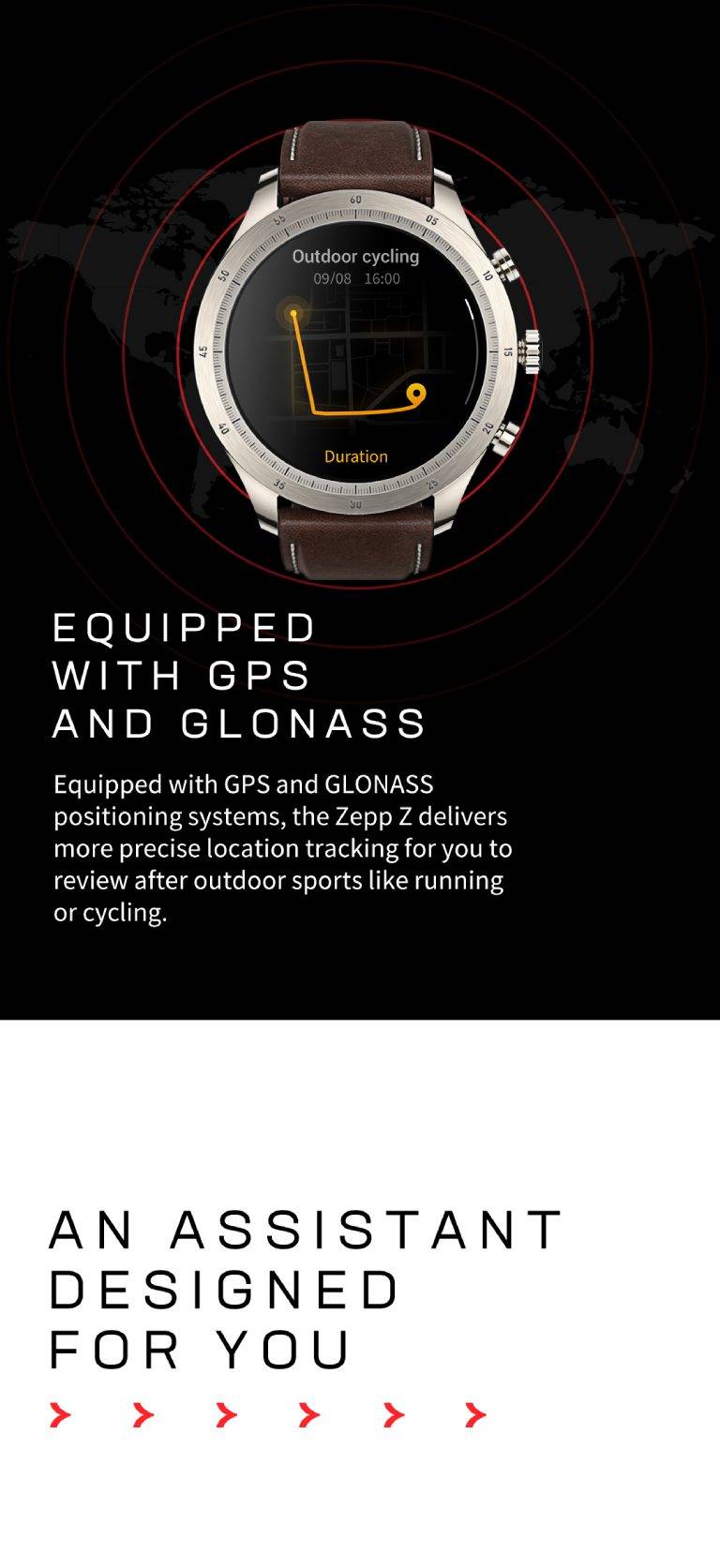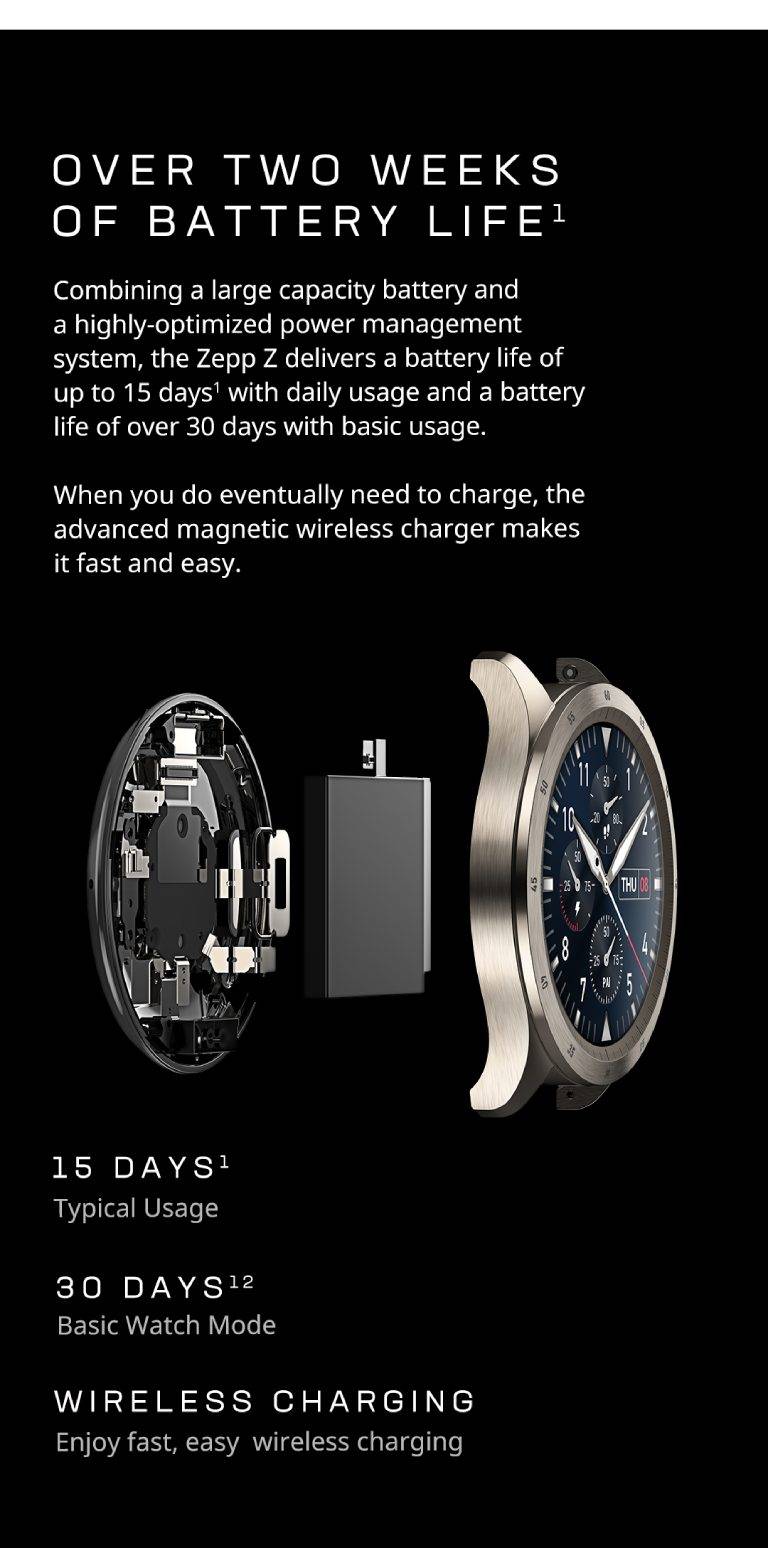 Specifications
Built-in Alexa

90+ Sports Mode

Anti-fingerprint coating

Classic Crown
Digital Health Management

SpO2 Level Measurement

PAI Health-Assessment System
1. Alexa will be supported by OTA upgrade. Alexa will not be available in all countries/regions. To see the countries/regions available, languages supported, as well as how to activate and use Alexa on your Zepp Z, please visit support.zepp.com.
2.Offline voice assistant only supports English voice commands.
3.The daily usage refers to the following condition: Heart-rate monitoring and sleep monitoring are turned on, and SpO2 is measured twice a day. Every day, the screen turns on to display 150 messages, and the user raises the wrist 30 times to check the time. Other operations last for no more than 5 minutes each time. The user exercises three times a week, and runs for 30 minutes each time, with the GPS feature enabled. The battery life is affected by various factors, and the actual amount of time may be slightly different from the nominal value.
4.This battery life refers to the following condition: Bluetooth, heart rate monitoring and other features are turned off. The user raises the wrist to turn on the screen 100 times a day. The battery life is affected by various factors, and the actual amount of time may be slightly different from the nominal value.
5.SpO2 level can affect the oxygen level to various organs. If the level is too low, it could lead to dizziness, headaches, or cardiac arrest. This product is not a medical device. The measurement data is intended for reference only and cannot be used to perform professional diagnosis or monitoring of any medical conditions. Additionally, data accuracy will be affected if the sensor area makes contact with skin that is tattooed, pigmented or deep-toned. To measure SpO2, please keep your arm still.
6.The 24-hour heart rate detection feature requires the user to set and turn on the "heart health detection" feature; the 24-hour heart rate monitoring is supported in the app, and the minimum value can be set to 1 minute; this feature cannot be used for medical purposes or as a basis for medical diagnosis. The detection results are provided for reference only. Please consult professional medical institutions if you feel unwell.
7. According to the GB/T 30106-2013 / ISO 228010:2010 standard, the Zepp Z delivers a water-resistance level of up to 50 meters and has passed testing conducted by the National Watch Quality Supervision and Inspection Center. The report number is SHES200701471601. Do not wear the watch with a leather or metal strap when swimming. When you are going to swim, please change to a fluoroelastomer strap or other suitable type.
8."Always-On Display" is a feature that enables the watch to display system information when the screen is on and display time when the screen is off. To enable this feature, manually set the AOD mode.
9.The HUNT Fitness Study indicates that people who maintain a PAI™ score of 100 or higher show lower risk of hypertension, heart disease, and type-2 diabetes. HUNT Fitness Study: This study was conducted by Professor Ulrik Wisloff of the Faculty of Medicine, Norwegian University of Science and Technology. It lasted for more than 35 years and had more than 230,000 participants.
Statements:
10.The product images and screen content shown above are for reference purpose only. The actual product (including but not limited to its appearance, color and size) and screen display content (including but not limited to the background, UI and graphics) may differ slightly.
11. The data that is provided on this page without a specified source is taken from internal laboratories or supplier data, and has been obtained under a specific test environment. The product's actual performance may differ slightly due to product individual differences, software versions, usage conditions and environmental factors.
12.To provide product information, specifications and characteristics as accurately as possible, our company may adjust and revise the text descriptions, images and other content in the above pages at any time. Due to real-time changes in product batches and production-supply factors, we may modify the above information as required without providing a special notice.